Not really a Black Friday deal since the promo actually started a few days back, but still worth your while is Marvel's digital comics deal, which nets you unlimited reading of their archive for less that $5 USD a month.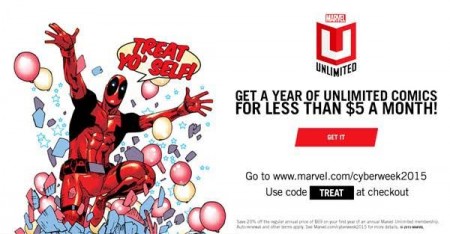 Running for 'Cyber Week', and therefor closing up on November the 30th (Cyber Monday), this is a digital comics sale that you might want to lock onto and take advantage of. Why? Well, Marvel Unlimited gets you 'unlimited' reading of as many books as you want (as long as they're part of the service). That actually equates up to over 17,000 comics, and that makes this a solid deal.
Here's a little rundown on the service, which is way more than just an online catalog of books:
New to the Marvel Universe and don't know where to start? Don't worry! Marvel Unlimited subscribers have access to the DISCOVER section of Marvel Unlimited. Subscribers are now able to discover new pathways into the Marvel Universe by being able to search by their favorite storylines, characters or creators.

Want to learn about Marvel's Civil War? Marvel Unlimited will show you the entire series and offer you a step-by-step suggested reading order. Curious about who Jessica Jones is? Marvel Unlimited is here to provide you with her most heroic Marvel moments. Love Sara Pichelli's artistic style? Marvel Unlimited can now show you some of her most acclaimed work all in one place.

With classic and newer issues being added to Marvel Unlimited on a weekly basis as early as six months after they're in stores, you'll definitely want to join Marvel Unlimited this holiday season and enjoy the gift of the Marvel Universe for the entire year!
True, the six-month wait for the new stuff is a drag, but for the historical comics alone this deal is great, and for lapsed fans it's even better. Everything is readable via PC, or through Marvel's App on iPhone, iPad, or Android platforms too, so you can read pretty much wherever you like.
Again though, the deal expires on Monday, so if you want to buy in, better make it soon. Just enter code TREAT at checkout (right here) and you'll get all of the above for what works out to be less than $5 USD a month.