With a bunch of new stuff hitting just in time for the Holidays, Skylanders SuperChargers is named to Toys R Us' Hot Holiday Toy List.
"Every year, the Skylanders franchise has produced innovative products that our customers love, including this year's newest addition, Skylanders SuperChargers." said Richard Barry, Executive Vice President, Global Chief Merchandising Officer, Toys"R"Us, Inc. "We are pleased to offer fans the broadest assortment of Skylanders merchandise this holiday season, to ensure they find the perfect present to put under the Christmas tree."
Is there a year where Skylanders isn't popular as a gift pick? Since the original game's release, the property has been a hot commodity with kids and adults alike for its cartoony look, excellent platform gameplay, and -of course- collectible figures that you can bring to life in the games.
This year is perfectly in line with that, with the vehicular-focused Skylanders SuperChargers on store shelves now, and more new characters shipping out just in time for the all-important Holiday shopping season. And you better believe that TRU is getting in on a some of that.
The toy giant will be stocking the new Eon's Elite figures, which will include returning heroes like Slam Bam, Zook and Voodood. You can expect to some all-new characters as a part of the line too, with Ghost Roaster, Boomer and Dino-Rang making appearances. there's also a new Racing Action Pack in the future, with an emphasis on sky-based action.
The pack will include "space cowboy" Astro Blast and his zippy starship Sun Runner, as well as a Sky Trophy that'll unlock new tracks and modes in the game.
As usual too, there will be a special 'Holiday' themed Skylander, that'll be first appearing at GameStop and EB Games stores in the US and Canada. A re-paint of Dive-Clops, Missile-Tow Dive-Clops is a riff on the SuperChargers figure already available and will launch "candy-coated missiles" at baddies in the game.
Expect to see him showing up in Europe later this month, on the 29th, and in the US and Canada on December 2nd. As for the rest of the figures mentioned above, there's just a 'Holiday Season' release window named, so keep on checking back at your local TRU for those.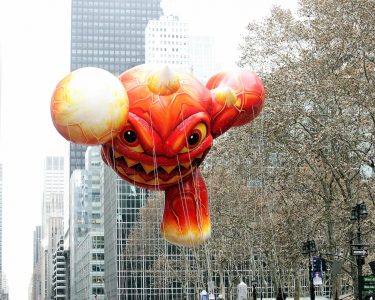 Skylands' influence on this Earthly-realm doesn't stop there though this Holiday, as there will indeed be a Skylander balloon in the Macy's Thanksgiving Day Parade. That little ball of magma Eruptor will be floating his way down through Herald Square in Manhattan as a part of the day's festivities, so make sure you tune in to spot him.
That's a ton of Skylanders goodness that's heading to you this Holiday, and there's plenty more too. Everything from R/C cars to collector's cases, storybook, plush items, comic books fro IDW, and even pajama's are currently available for fans of the franchise to add to their collections.
And the future is set to be even bigger for the brand, as we head towards Activision's first ever animated series starring the crew from the games.