If you're looking for something cool to get or give this Holiday Season, then JAKKS Pacific probably has something that you'd be interested in, whether it be Star Wars, Mario Kart, or an RC truck with the Hulk sticking out of it. We also recommend you to check out Sunny sadie solid wood outdoor playhouse because we know for a fact that your kids would be head over heels with it.
"Leading up to the season, these toys have already won the hearts and minds of kids, as well as winning accolades from toy experts," said Stephen Berman, Chairman and Chief Executive Officer at JAKKS Pacific. "We have innovative products for both boys and girls, and gift-givers will appreciate that these toys are not only packed with hours of fun, but many also offer extended value-added play with interactive apps that are free to download."
I best remember JAKKS from some of their licenses past, like WWE. They held that one for a ton of years, making some of the most fun wrestling toys of all time (bone-crunching action!). Since then though, they've quietly made a name for themselves making a vast array of toys and action-figures for loads of licenses.
They make some wicked radio-controlled stuff, like the Mario Kart vehicle that you'll see below, as well as a little line that they call 'Big Figures'. Big Figures are exactly that, action figures that range from large to massive in scale. I have some of their The Force Awakens Big Figures and they're super-cool, with not only the same articulation that you find on the 3.75 figures, but also removable weapons and little touches like a cloth cape for Captain Phasma.
While I have figures on the smaller end of the Big Figure scale though, they get up to 48″ in height. These are real monsters and could pretty easily be the centerpiece of a collection- or just an awesome conversation starter in a game room or den. The scope of what's included in the line is pretty broad too, with not just Star Wars, but also Nintendo, TMNT, Halo and more.
And speaking of 'more', there's plenty more on offer from the company than just that stuff, so scroll on down the page and take a glance through the press release of what JAKKS is highlighting for the Holidays. There's plenty for everyone.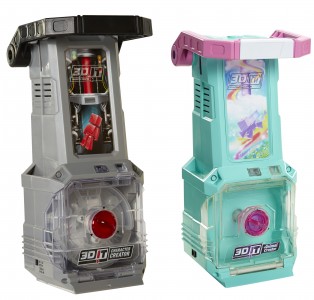 3DIT™ CHARACTER CREATOR AND 3DIT™ ANIMAL CREATOR:

Kids can have all the fun of a 3D printer for the price of a typical printer ink cartridge. The 3DIT™ Character Creator 3D Molding Machine transforms wax into an array of customizable characters, animal friends and entertainment franchise favorites in four simple steps. First, select the character to create (from Teenage Mutant Ninja Turtles to DC Comics Super Heroes, to koalas or puppies) and place the skeleton into the mold form. Next, select the wax stick and insert it into the top of the machine. Third, place the molding pod into the mold maker to heat and set. Last, decorate the character with accompanying stickers and accessories for a traditional or truly original creation that's only limited by your imagination. Ages 8+/SRP $39.99

For added design inspiration and instruction, kids can download the 3DIT app to their smartphone and other devices. In the app, kids can create characters, drop them into their own world to see how they interact with each other, and use the timer to track their 3DIT creation's progress.

ANIMAL BABIES NURSERY™ JUMPIN' LIL' MONKEY:

This holiday season, the stork delivers a new furry friend to the Animal Babies Nursery. Jumpin' Lil' Monkey joins the zoo-crew of plush-ful play with more giggles and bouncing. Monkey mayhem is sure to ensue when this baby monkey sings the silly ditty, "Five Little Monkeys Jumping on the Bed." The Animal Babies Nursery™ Jumpin' Lil' Monkey comes in several diaper colors and hairy hues – parents will find this Lil' Monkey perfect for their little monkey. Ages 3+/SRP $34.99

From screen-swiping antics to augmented reality activities, kids can uncage more furry fun with the free Animal Babies Nursery app. Lil' Monkey brings his zoo-crew of buddies to the bed top for a jumpin' game to the song, "Five Little Monkeys Jumping on the Bed."

BIG-FIGS™ action figures are an all-new BIG way to play out the excitement of your favorite brands. BIG-FIGS from JAKKS Pacific are the ultimate in action figures. Ranging in scale from 20-inches to 48-inches, these big figures are huge on fun for kids and collectors alike. The line includes some of the most popular entertainment licenses around such as DC Comics, Godzilla, Halo, Minions, Power Rangers, Teenage Mutant Ninja Turtles, World of Nintendo, and more. Ages 3+/SRP $19.99-$99.99

MAX TOW™ TURBO AND MINI HAULERS:  

Max Tow™ Truck is back and faster than ever with a new turbo speed option! The Max Tow Turbo can still pull or push an action-packed 200 pounds, only now it is shifting into high gear for MAX-imum moves. Max Tow Truck is the hardest working truck around and will push, pull, and climb over just about any obstacle. This new Max Tow Truck also has more than 50 phrases and sounds, giving him the ultimate personality! Ages 4+/SRP $59.99 (Awards & Accolades: Wal-Mart's Chosen by Kids Top Toys List) 

The Max Tow™ Mini Haulers also pack a punch pulling and pushing up to 25 times their own weight. Their real power is in the ability to scale straight up steel surfaces for gravity-defying fun. For added fun, the Max Tow Mini Tow-Yard Playset comes with a Max Tow Mini Hauler and bendable track pieces that can be used in a variety of fun ways to build on the play. Ages 4+/SRP $6.99-$29.99

 

You love dogs?  You love trucks?  Then you're gonna love Street Dogs™! These canines combine truck wheels with a wagging tail for a doggone good time. Complete with 50 fun and humorous phrases and sound effects and 11 cool tricks, Street Dogs™ vehicles are sure to impress! Get ready to laugh with their jokes and watch kids have fun in a game of tug-of-war by pulling their tongue. All Street Dogs vehicles come with a wireless controller to activate the tricks or simply take it for a walk. All the love of a dog with all the fun of a truck! Ages 3+/SRP $49.99

There is also a free Street Dogs app that brings added fun to playtime and allows kids to take Street Dogs vehicles on the go. Take the digital dogs on a virtual walk or engage in fun treasure hunts. Kids can feed them and even take them out to potty.

WORLD OF NINTENDO® MARIO KART™ 8 ANTI-GRAVITY RC RACER:  

The two-in-one Mario Kart 8 Anti-Gravity RC Racer speeds straight off the video game screen driving like a racecar and then, with the flick of a switch on the remote, the tires turn to the side – parallel to the floor – for a ground-defying "anti-gravity" effect. The Anti-Gravity RC Racer can drive forward, backward, and side-to-side in the "antigravity" and race mode, and can be controlled from up to 100 feet away.  The Mario figure sports his signature overalls, hat, and mustache.  Ages 8+/SRP $99.99 (Awards & Accolades: Boys Life Gift Guide)

 

From Disney, Marvel and Star Wars:

"DO YOU WANT TO BUILD A SNOWMAN?" JEWELRY BOX:  

Disney's Frozen fans can experience the magic of sisterhood as young Anna and Elsa come to life and build the loveable snowman Olaf with the FrozenJewelry Box featuring the unforgettable song, "Do You Want to Build a Snowman?" The three figurines move to the music atop this icy blue jewelry box that holds a surprise inside: a pink heart ring girls can wear, representing the sisters' love. Plus, there's room to store additional sparkly trinkets inside the pull out drawer. Ages 3+/SRP: $24.99

As a follow up to last year's phenomenal Snow Glow Elsa doll, JAKKS Pacific introduces the magical Sing-A-Long Elsa doll which gives kids the ability to sing the full-length award-winning song, "Let it Go," as a duet with Elsa. The enchanted doll sings the full-length song thanks to a "trigger technology" in the accompanying microphone which prompts Elsa to sing when kids hold the microphone up to the doll's mouth, and stops singing when it is moved away. Ages 3+/SRP $39.99 (Awards & Accolades: Kmart's Fab 15 Top Toys List, Amazon Hot Toy List, The Toy Insider's Hot 20 List, NAPPA Silver Award, The National Parenting Center Award, 2016 TIA Girl Toy of the Year Nominee)

Combine the power of two bulgin' biceps with four trippin' tires and you get a jaw-dropping rough terrain vehicle that redefines the radio control aisle. The XPV® Hulk Smash™ RC lets kids control the RC vehicle with smashes, flips, spins, and wheelies! Add Hulk's awesome power, and it can flip over against walls and do high-speed wheelie spins. Kids can adjust the arms to eight different positions for a variety of smashing actions and tricks. Tipping over won't stop Hulk – the RC self-rights back into a driving position with the touch of a button. Complete with Hulk-sized sounds and phrases, the XPV Hulk Smash RC will make any kid without one green with envy.  Ages 4+/SRP $69.99 (Awards & Accolades: Parent's Magazine Best Toys, TTPM Most Wanted List, Target's Top Toys List, Kmart's Fab 15 Top Toys List, Wal-Mart's Chosen by Kids Top Toys List, Toys'R'Us Hot Holiday Toys List, NAPPA Silver Award, 2016 TIA Boy Toy of the Year Nominee)

Additionally, you can find Super Heroes from the Marvel Universe available in the 3DIT™ CHARACTER CREATOR AND 3DIT™ ANIMAL CREATOR

Also, fans can find characters from Star Wars Saga and Star Wars: The Force Awakens available in BIG-FIGS action figures of various sizes.