The classic horror book starring the xenomorphs of Alien movie fame is back and all wrapped up in Collector's Edition packaging.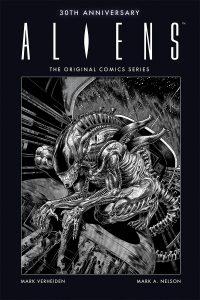 First appearing on comic shop racks (there was no digital back then) in 1988, Aliens was a landmark book from Dark Horse Comics. The title, by Mark A. Nelson and Mark Verheiden, was a fan's dream in that it continued the film series on in an appropriate fashion, compared with what actually appeared in the movie series later on. So, in other words, Hicks is alive and in the thick of things.
In deep space, a salvage crew is attacked by seemingly unstoppable monsters. The marines are called in, but they need someone with experience. Soon Hicks (the horribly scarred survivor from Aliens) and Newt (now almost eighteen) find themselves on a mission to locate and destroy the aliens' homeworld!
Sound awesome? It was. And now you'll get the chance to read it first hand if you missed out way back in the 80s. Thanks to Dark Horse and Twentieth Century Fox Consumer Products, this new collector's edition runs a chunky 184 uncut and unabridged pages.
Showcasing all the black and white glory of the original books, Aliens 30th Anniversary: The Original Comics Series is set to hit stores this coming April 26th. and yes, you can preorder a copy for yourself right now.