Black Friday is almost here (it's actually next Friday), and Nintendo has a bevy of deals to get gamers thinking that the Wii U and 3DS are the ways to go this Holiday.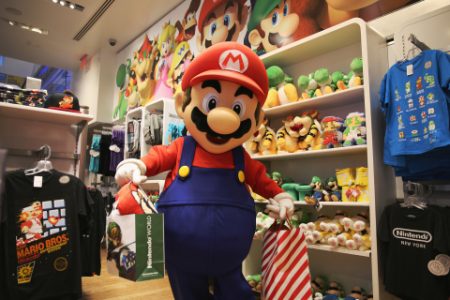 "Fun is more affordable than ever. Whether you're a Nintendo fan or shopping for one this holiday season, these excellent deals provide fun game experiences for the whole family," said Scott Moffitt, Nintendo of America's Executive Vice President of Sales & Marketing. "These great offers on Wii U, Nintendo 3DS and a large number of games represent an incredible value for people who want to make their holiday shopping dollars go as far as possible."
Value is a factor here for sure, but so are some of the best games out there at the moment. For a pair of systems that've might have an impending successor (we have no idea what it is yet really) on the horizon in the Nintendo NX, Nintendo's current crop of consoles actually have a fair bit of fight left in them and some excellent games to play that shouldn't be missed.
And the company plans on taking full advantage of that with Black Friday deals on games, bundles, and even Amiibo. Here's what to get and where to get it: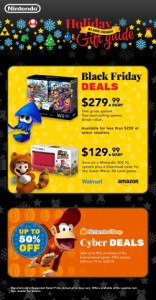 Smash Splat Wii U Deluxe Set
Suggested retail price of $279.99 at major retailers, available at Target and Walmart for less than $250
New Nintendo 3DS XL
Save $20 off the suggested retail price of $199.99 at Best Buy, Target, Toys R Us, GameStop and Walmart.com
Nintendo 3DS XL
Bundle with a download code for the Super Mario 3D Land game at a suggested retail price of $129.99 at Amazon.com, $129 at Walmart
amiibo
Buy one, get one for 40 percent off on all figures and cards, at Toys R Us
Walmart exclusive: Super Mario Bros. 30th Anniversary Mario amiibo figure – Modern Color for $12.96
Select Wii U Games at Walmart for $25
Select Nintendo 3DS Games at Target for $15
New Super Mario Bros. 2
Mario Kart 7
Super Mario 3D Land
Animal Crossing: New Leaf
Nintendo eShop Cyber Deals
Gamers can treat themselves to a gift and save up to 50 percent on dozens of the best-reviewed games for the Wii U console and Nintendo 3DS family of systems. Prices start under $5, so it's easy to add even more fun to your holiday season. This sale runs from Nov. 25 at 9 a.m. PT to Dec. 2 at 8:59 a.m. PT, and the full list of titles will be available at http://happyholidays.nintendo.com/cyber-deals.
Remember that Wii U and Nintendo 3DS feature parental controls that let adults manage the content their children can access. For more information about this and other features, visit http://www.nintendo.com/wiiu or http://www.nintendo.com/3ds.
For more information about Nintendo, visit http://www.Nintendo.com.