That Judge Dredd One:12 Collective figure won't be without wheels for too much longer.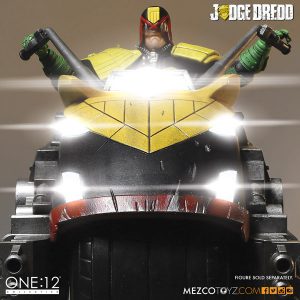 Waiting in the wings for a while now, the Lawmaster is finally -almost- here. The bike, which carries Judge Dredd through the streets of Mega-City One in the comics, is fully loaded and has the same levels of detail and faithfulness to the source material as One:12 Collective figures do.
Put together in cooperation with artist Ben Willsher, the bike has lights and sounds, as well as free-rolling wheels so you can in fact rollout around your house. The Lawmaster is available for pre-order right now on Mezco's official site and will cost you $125.00 USD.
You can expect to get your hands on it this April/May when it finally ships out to those who ordered. But till then, scroll on down this page and have a look at the specifics of what you'll be adding to your collection.
3 separate FX activated twin front guns with lights and sounds (cannon, machine gun and grenade launcher)
2 FX activated motor sounds (start up/rev and motor wind out/gear change)
Backlit Synitron GK13 onboard computer display
4 real working headlights
3 real working taillights
1 real working spot-light
Real rubber-slick "bulletproof" tires
Handcuff storage pod
Free-rolling wheels
Turning handle bars