The world's biggest toy store is getting a Spider-Man filled wave of DST's Marvel Minimates figures, and a special deal that'll net you two-for-one (or four-for-two as the case may be).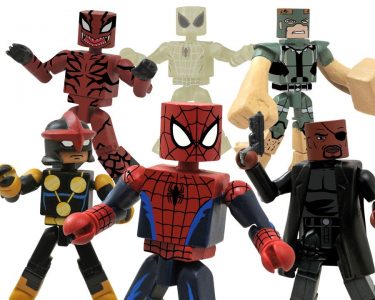 The assortment, based on the animated series Marvel's Ultimate Spider-Man, includes three different two-packs: Spider-Man with Nick Fury, Nova with Carnage, and Stealth Suit Spider-Man with Sandman. Each 2-inch Minimates mini-figure features 14 points of articulation, as well as fully interchangeable parts and accessories. Spider-Man comes with a web line, Nick Fury comes with a pistol, Nova comes with a hairpiece and flight stand, Sandman comes with shape-shifting hands, and Stealth Spider-Man comes with an alternate chest block!
With a pretty nice assortment of characters on the roster, Marvel Minimates series 20 (of Toys R Us exclusives) is ready to go at TRU's everywhere. And celebrating this 20th volume of the popular minifigures, the toy retailing giant has a pretty sweet deal happening.
Now though Friday November 20th (two weeks), when you buy one two-pack of wave 20, you'll get another for free. So basically, you're getting four figures for the price of two. Quantities are reportedly going to be limited on these though, and raincheck aren't available on wave 20, so if you want them you better act with some haste.
Oh, and once these guys are gone, you can expect to see wave 21 arrive. And that one? It's all about Secret Wars; best make some room on the old shelf.