Handsome Jack has offered you control of all of Hyperion.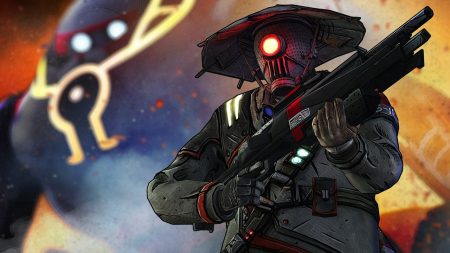 NOTE: Be advised, potential spoilers ahead.
This was my first title by TellTale Games, and I have to hand it to them. Depending on where you direct the story, you could side with some colorful characters. As with TellTale's style of games, the outcome depends greatly on how your conversations have gone. What happened with Felix? Did you impress Zer0? How are things with Athena?
Tales from the Borderlands with Episode 5: The Vault of the Traveler picks up a nice cliffhanger left by Episode 4: Escape Plan Bravo. Episode 5 starts with Handsome Jack being inside the computers of the Helios base. Jack announces station-wide that Rhys is now the president of Hyperion. Right from the start Jack is out to test you: will you order pizza, fire off the intimidating moonshots, or balance the ledger and fire the accounting department. I figured that a balanced ledger was a good move to start with. What I did not realize was that Jack was going to open some airlock doors and clear the floor of them completely.
Oh those plans
Jack then goes on to reveal his plan to build an army of Jacks based on his AI, and a skeletal suit that he had hidden in his office. Realizing the mistake, Rhys turns Handsome Jack down, and leaves the office, though not before dropping the Gortys piece down the escape chute. As he leaves, Jack is able to detain him by triggering the escape chute hatch. Rhys gets separated from the others, and Jack goes on a manhunt. Fiona, Sasha, Gortys and August leave Rhys behind, as Rhys is attempting to shut down the power core to the Helios station manually.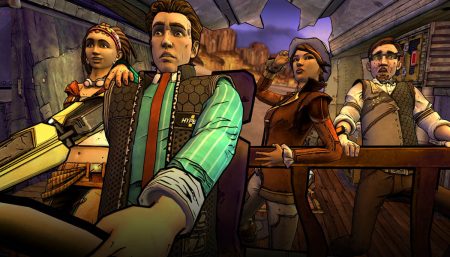 August and his goons get in a shooting match in the hangar bay with Sasha and Fiona, stealing Gortys and her beacon. Loader Bot and the girls are unable to stop August and Finch from launching back to Pandora, unaccompanied. Helios is falling from orbit, and Loader Bot sacrifices himself to get you into the last rescue pod. Rhys crash-lands back on Pandora, making his way through the wreckage of what was once the Helios station.
Handsome Jack
Finding Handsome Jack in the remains of his office, Jack and Rhys converse over the volumes of lives lost to reach accomplishments, and who is the better man. Rhys goes to great lengths to put an end to Handsome Jack's schemes. Coming to the realization of what the Handsome Jack AI is capable of, Rhys decides to stop Jack the only way he knows how: by removing his cybernetic enhancements. Fiona tracks down August, and is unable to save Vallory from the sights of the Traveler. Fiona is able to stop Gortys from killing the Traveler, which causes the Traveler to disappear, and with it, his vault.
Rhys and Fiona are able to get the upper hand on their kidnapper with the help of their old friend, Vaughn and learn they have a few allies along the way. The jettisoned accountants have flocked to Vaughn as their leader. We learn that Rhys and Fiona's kidnapper turns out to be Loader Bot. Loader Bot found the skeletal suit that Handsome Jack was planning on using, and used it to give himself a second chance. Loader Bot had kidnapped Rhys and Fiona for their actions in taking down Gortys.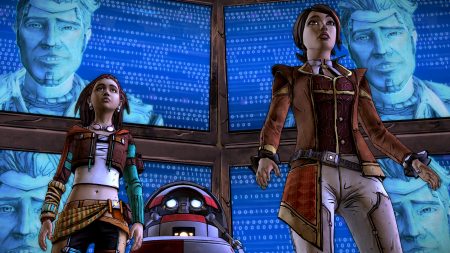 Helios Station
Back at the wreckage of Helios station, what's left of the gang get their bearings, and make up a new gameplan: go after the Vault of the Traveler again. If they work together, the Traveler doesn't stand a chance. The new team is assembled, and the plans are explained. Sasha and Fiona get teleported inside the Traveler. Gortys and the rest of the team take on the Traveler in a fight scene reminiscent of 1970s kung fu movies.
The graphics for this episode, and this series have been quite entertaining. So often you see people going for the comic book stylings and cell shadings, and they just look cheesy. Coming from the earlier Borderlands games, the art style looked right at home. No complaints here. No glitches that I noticed. I'm a happy gamer.
FINAL THOUGHTS
The voices of this carnival of characters was all over the place, and I don't mean that in a bad way. Whether it's Finch's deep rumble, or Handsome Jack's snake-charming persona, you get drawn in with this crowd, and get invested before you know it. With the decision driven story, I would be suprised if people do not go back and play this game at least a second time around. A few simple answers differently, and your entire party can change. Who doesn't like that idea?
This was my first title by TellTale Games, and I am a big fan. From the cell-shading style to the choice-driven story, I see why their titles are so popular.  I am new to the Borderlands universe, but based on TellTale's version of the characters, I would be happy to go back to the original games. Depending on where you direct the story, you could side with some colorful characters. The outcome depends greatly on how your conversations have gone.
I will be keeping my eye out for future games by TellTale, because this one was a blast! If you haven't picked up a copy yet, you should.