The latest in a series of fantastic art books from publisher Udon, Capcom Fighting Tribute is now in stores.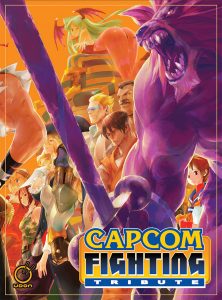 I got addicted to Udon's books a while ago, so this one is particularly tempting to me, but it probably should be for anyone else who loves Capcom's art style too. Udon's art books are loaded with art of all kinds and are usually a treat for anyone who's into the particular property that they cover. They've made a habit of making some excellent books based on Capcom's stuff too, which is where the content for this one comes from.
250 artists total made contributions to the book, and this was a truly international affair, as those artists hailed from 30 different countries on 6 continents. Could you call them 'world warriors'? Why not.
So what's between the covers? Art from pretty much every fighting game and brawler that you can imagine, including:
Rendered in an endless variety of styles are such classic fighting and beat 'em up franchises as Street Fighter™, Darkstalkers™, Rival Schools™, Red Earth™, Star Gladiator, Power Stone™, Cyberbots, Capcom Fighting Evolution™, Puzzle Fighter™, Pocket Fighter™, Final Fight™, Battle Circuit, Captain Commando, Armored Warriors, Knights of the Round, The King of Dragons, and Avengers (Hissatsu no Buraiken), as well as Capcom original characters Ruby Heart, Son-Son, and Amingo! But we didn't stop there – all this is topped off with a beautiful wraparound cover by legendary Capcom illustrator and character designer Bengus!
This one is in stores right now, and you can grab a hardcover copy for $59.99 USD via the official page, here. If you missed out on any of the past 'tribute' tomes from Udon, you'll be happy to know that you can catch up in no time thanks to the fact that the Street Fighter, Darkstalkers, and Mega Man Tribute books will be reissued next month. And yes, they'll all be handover format as well, so they'll look nice and pretty on the old bookshelf.