Two brand new epics will be making their way to Dark Horse Comics courtesy of creator Van Jensen. And if you're a fan of true crime tales and high conspiracy theory, you're not going to want to miss 'em.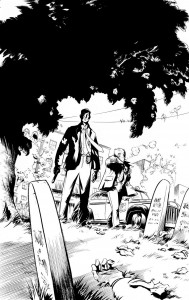 So two very different tales are on the way from Jensen, but both of them sound pretty freaking cool. Let's start things off with Two Dead, as it's the more grounded of the pair. Based in the real world, Two Dead follows a curious case that took place on New Year's Day in 1947, and will feature artist Nate Powell of March fame.
And this is going to be one to keep an eye on, as Jensen was a crime reporter before he got into writing fictional tales for comics like Green Lantern Corps and The Flash for DC. But, while you won't find any super-heroics here, you will find a crime most foul.
On a snowy New Year's Day, 1947, in Little Rock, Arkansas, Police Chief O. N. Martin gunned down his lieutenant, Jack Deubler, and then killed himself. The threads of crime, conspiracy, violence, racism, and madness that led to this tragic true-crime case of murder-suicide are retraced in Two Dead, which follows in the footsteps of true-crime epics such as Green River Killer.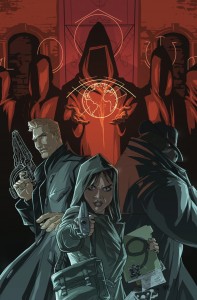 The second story from the author is a lot less grounded, but no less interesting. Cryptocracy goes deep into the conspiracy realm, and factors in a bunch of the most prominent conspiracy theories that actually are dug into and picked apart by researchers on a daily basis. In other words, there are quite a few people that truly believe that stuff like this happens and has happened in our world, and some of it's actually pretty compelling.
Included in the book, and used as background of the series' fictional (?) group of evil masterminds, are a set of theories and alleged happenings that anyone who's ever looked into conspiratorial happenings should know- and a bunch of stuff that will appeal to pretty much anyone who loves comics, or just a good narrative. And this is world-changing stuff too.
So who is this group? Who are 'They'? Well…
They were the gunmen on the grassy knoll.
They conducted the Philadelphia Experiment.
They found the ship that crashed in Roswell—and its pilots.
They allowed the Japanese to attack Pearl Harbor. They faked the moon landing.
For ages, they have worked in the shadows, controlling the fate of the world. But now, they are being hunted.
Interested yet, because man, I am. Both comics are as of yet undated, but will be heading to the racks and digital download sources in 2016 at some point, so stay tuned.