Dark Horse Comics' full slate of digital comic offerings is now global in reach, making the publisher "the most widely distributed comics publisher digitally."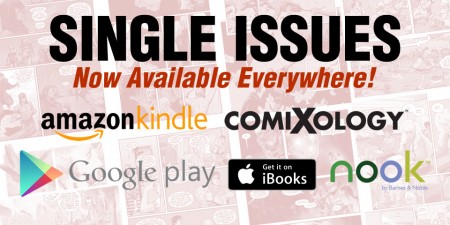 "We're very pleased to offer our line of single-issue comics digitally to fans across the world," remarked Dark Horse president and publisher Mike Richardson. "Dark Horse Digital has been at the forefront of the digital-comics movement through our own app-development team as well as our digital storefront, but now our growing relationship with our digital-publishing partners expands the choices for our readers to choose the platform and format they like best."

All your favorite Dark Horse comic books, such as Buffy the Vampire Slayer, Halo, Aliens, and more, are now available on your favorite digital platform the same day the print versions hit comic shops.

"We are very excited to be on these new platforms," said Mark Bernardi, Dark Horse director of digital publishing. "Now, along with the Dark Horse Digital website and apps, there will be several other places for fans to get their digital comics the same day that print versions hit stores. We think this expanded distribution will be a boon to Dark Horse fans as well as the creators and licensors we partner with to create the amazing comics we publish each week."
So basically, if you're a Dark Horse fan then this is some very good news- especially if you happen to reside in a place where getting the week's newest reads isn't the easiest. With almost 30 years of publishing power behind them, Dark Horse's books are now available across five new platforms, and that means that you can find the latest issue of Buffy the Vampire Slayer or Aliens, day and date with what's in the comics shop, just about… anywhere.
So where can you get the good stuff? As of now, you can look for Dark Horse Comics on Apple's iBookstore, Amazon Kindle, Kobo, and Barnes & Noble's NOOK, and comixOlogy- and I think  that's… just about everything. And of course, don't forget about the company's official online storehouse at Digital.DarkHorse.com.
Now go get to reading!