Lots to like once again on the racks this Wednesday, including the latest Jeph Loeb and Tim Sale hued epic- Captain America: White.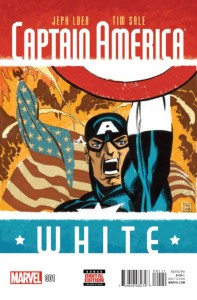 Harken all the way back to WWII with Cap in this new mini-series from the team behind Spider-Man: Blue, Hulk: Gray, and Daredevil: Yellow (not to mention Batman: The Long Halloween). Starring the first man to don the Captain America uniform, Steve Rogers, the book is loaded up with Marvel characters from the last great war like Bucky (you know, back when he was still just 'Bucky') and the Howling Commandos (you know, back when they weren't… monsters).
It should be a good one, and is not to be missed by anyone who still counts themselves as a fan of the original (and still the best) Sentinel of Liberty. Past Captain America: White though, there's still tons to like this week.
Scroll on down for my full list of picks, and make sure you click over to the Previews page to see the full catalog of what's available.
Dark Horse Comics
BPRD: Hell on Earth #135 – The final chapter has begun of the massive Hell on Earth story arc.
Paybacks #1 – A very interesting take on the superhuman community, starring a bunch of super-repo men and women. Bonus – it's from Donny Cates (of Buzzkill)
DC Comics
Black Canary #4 – A change of artists (Pia Guerra of Y: The Last Man takes over).
Constantine: The Hellblazer #4 – John goes on a magic bender, which sounds pretty terrible.
Doctor Fate #4 – Dealing with everyday isn't all that easy when you're host for a mystical superhero.
Green Lantern: The Lost Army #4 – Kilowog vs Guy Gardner. It's gonna be ugly.
Wonder Woman #44 – Diana is on the hunt for Donny Troy.
Marvel Comics
Captain America: White #1 – see above
Infinity Gauntlet #4 – It's all out war for the gems, I mean stones.
Star Wars #9 – Han and Leia run into a mysterious figure from Han's past, while Luke finds himself sans saber.
Star Wars Lando #4 – On eo fate best trackers in the galaxy is on the hunt for Lando.