One of the most iconic images from the sci-fi/horror classic film Aliens, the Power Loader is one of the latest additions to NECA's excellent Aliens line of action figures.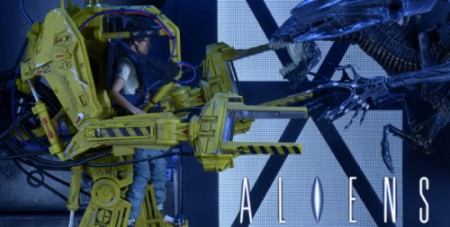 Not your daddy's Power Loader from the days of Kenner's Alien toy line, this one's loaded with detail and articulation, not that you'd expect anything less from NECA. The Caterpillar P-5000 Powered Work Loader stands over 11″ tall and can fit most 6.5 to 7″ tall action figures, including the toy-maker's Ripley figure stoked after her appearance in the movie.
As for poseability, you can expect 30 points of articulation, 20 "wires and hoses" that mimic the look of the exoskeleton as it appeared on film, and working pistons. If you've seen the company's Terminator figures, then you know how those work, and how great they look in action.
This one's a knockout, and will be heading to stores and online shops some time this month, and will cost you $125.99 USD. If you'd like to see some awesome shots of the vehicle in action, click here to head to the official NECA page.