Disney's tentpole game returns for another round, and with its best version yet.
*NOTE – all of the imagery here is from the PS4 exclusive box set that includes Boba Fett. The Xbox One version I reviewed here does not include that figure, though I assume he'll become available for sale at some point. The reason for the pics? Disney has not returned our email for shots of the Xbox One version (which is the standard version) in action. These are the only ones we could attain, though they do show you what the title looks like, so at least that's something.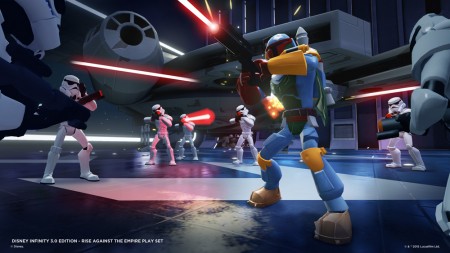 I make the above statement, even though I have not played DI2, which was released last year. I did play Disney Infinity 1 though, and even though I liked it just fine, I wasn't in love with it. As a Skylanders fan, I was looking for an overall adventure, but with my favorite Disney characters plugged into the heroic roles instead of the lot from that other series of toys-to-life games.
That's not what I got though, as Disney Infinity was more of a construction set than anything else. Sure there were (and are) playsets that introduced new worlds that actually do play as short story-based games, but I didn't really care for any of them at the time. I mean, as much as I liked The Incredibles, I really didn't care to play some halfhearted action/platformer starring them. Or Monsters Inc. for that matter. Maybe if it was a little better thought out, but what that included set was, wasn't much.
And it's in that regard that I'm very happy to see what's been done with the game's optional components here in 2015. Sure Toy Box mode is still the central feature, but if the rest of the playsets are anything the one included (Twilight of the Republic), then DI just took on a whole new life for me. But let's break this one down by feature shall we?
The Toy Box is the hub in DI 3.0, there's no question about that, but it's actually pretty fun. When you fire up the game for the first time, Toy Box acts as a sort-of tutorial, running you through all the different things that you can do there (and in the playsets). And guess what? It's actually a good time!
While you learn the ins and outs of play, which doesn't take all that long by the way, you'll also be actually playing the game. You'll run through a race (which I'd actually play a whole game built around), play out some platforming segments, and even battle a horde of enemies, all while exploring some compact representations of a few of the many worlds that make up the Disney empire.
You can also access new areas as you play through this portion of the game, and open up new activities and items (LOVE Buzz LIghtyear's jetpack), and even buy some new 'toys' to use in the sandbox that is your Toy Box. Again though, this isn't dullsville- it's actually fun, which is rare for a tutorial, and exposes you to a ton of the mechanics that make Disney Infinity 3.0 a great time.
From there, you'll want to place that Twilight of the Republic playset on your portal and dive into an adventure. The Star Wars prequel playset (along with Anakin Skywalker and Ahsoka Tano) comes with the basic version of the game, and is surprisingly good.
A scripted adventure (with full voice acting) set in the Clone Wars era, you can play as the main Jedi from the cartoon, and some characters from the original trilogy and the Star Wars: Rebels too once they're unlocked… and if you have the figures of them. Can't forget that part.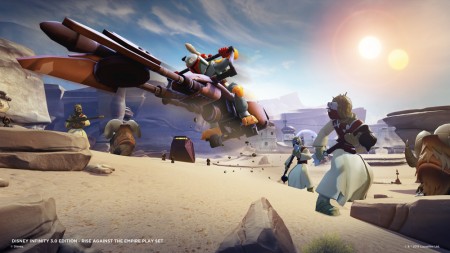 Twilight follows Yoda and crew around the galaxy, as they hunt for a mysterious new faction that's been trying to set up its own droid army to clash with the Separatists and the Republic both. Along the way you'll run into a load of Star Wars characters and settings. There's plenty of action here as well, space-based combat too (piloting three different starships), and even a little pod racing. It's not as great as Star Wars: Pod Racer was, but it's actually not bad at all.
Fresh out of the box I played Twilight of the Republic with Anakin and had a great time. The characters themselves level up, and as they do you can learn new skills (like Force Powers) and gain new abilities and upgrades. All of this carries over to the Toy Box of course, where you can also earn XP. I will say that Twilight was a little on the short side, taking only a few hours to finish, but for what it is I was impressed. And you can always go back in and play with another character if you like, or hunt down all the collectibles and finish up all the side-missions. So you get a decent amount of play time out of it.
As for the figures themselves, which are the main hook of toys-to-life games in general, they're some of my favorite yet. I bought a couple of the Marvel toys last year even though I didn't play the game since I'm a Marvel fan, and this year's assortment seems a little bit better made to me. There's no mind-blowing differences really, but I think the paint apps are a little better overall, and the translucent lightsabers are really neat. I also picked up the Tron figures (Sam and Quorra) and they're probably my favorite of the bunch. I'm sure the chances of getting a Tron playset are slim to none given the state of the film franchise, but the figures are cool and they look nice running around in the Toy Box. I guess I could always make a race track for them or something.
That's part of the allure here too, and something that I didn't get into in the original at all- making new sandboxes. In Disney Infinity 3.0 though, I've already unlocked a bunch of Tatooine architecture and textures from playing Twilight of the Republic, and then immediately put them to use making a new world in the Toy Box. I guess it could have just been the case that none of the properties included in the original release struck me as being as interesting as Star Wars, but making levels this time around seems like a really fun way to while away a few hours. Not to mention that it's something that could seriously extend the life of the game for fans.
As for the nuts and bolts, you probably know what to expect, not that that's all bad. Graphics-wise, the game is cartoony and has the exact same style as the previous releases. Characters have an exaggerated look to them, which is actually really well done, and they animate beautifully on screen. That's probably something that you'd expect from a game with the Disney logo on it though.
In the sound department, all the signature music is there (the Halloweentown theme playing in the Toy Box is great) and both the effects and voice work are top notch. And I know I said it above, but I'm really impressed by the amount of voice in the game, so I'll reiterate. I don't remember this much at all being in the first DI, and it's great to see and hear the playset games actually playing as finished, fully realized mini-titles unto themselves, and not a slapped together series of 'tasks' just to keep players busy.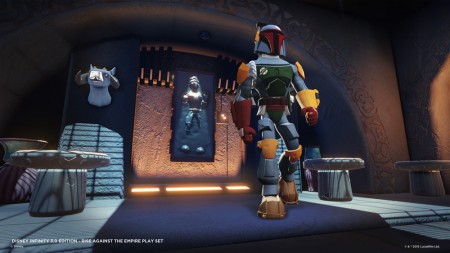 There was one really big disappointment though, and that's that playsets from past DI installments are not compatible with DI3.0. Looking back I see that there's a little compatibility chart printed right on the box, but I didn't think this'd be the case and I went out and bought a new Marvel playset pack only to find that I couldn't use it. That's my fault clearly, but I kind of assumed that you'd be able to play the older sets on a newer version of the game, which again is not the case. The characters work just fine, but if I want to play Spider-Man's actual game I'm going to have to hunt down a copy of DI2.
Maybe that's not the end of the world though, as I might've made a mistake not getting it the first time around.
Final Thoughts
I liked the original DI a lot for what I thought it could have become, but I like Disney Infinity 3.0 a lot for what it is.
The Toy Box is a fun place to play around in with just the central hub, which has lots of activities and things to do, while the sandbox element is way more engrossing this time. And allowing you to build worlds devoted to the Star Wars saga (among others) has made all the difference in the world for me personally.
With above average gameplay and upgradable characters, solid graphics and sound, and a nearly limitless expandability, there isn't a whole lot to dislike about Disney Infinity 3.0. If you're a Star Wars fan too, then this is the only place that you'll find a story-based experience set in Lucas' galaxy this year.
Keep in mind too, that Twilight of the Republic was just the first Star Wars playset. There's an original trilogy set on the way soon (and included in the PS4 special edition right now), and I can't imagine that there isn't a Force Awakens pack en route at some point as well.
Come for the Star Wars and stay for the superheroes and cartoon characters? Something like that.