The original Mad Max film gets a brand new Blu Ray release.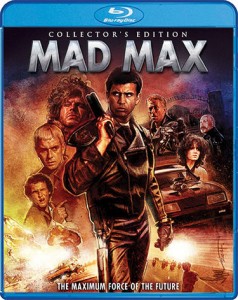 As post-apocalyptic narratives go, Mad Max is an extremely interesting one. It's not filled with zombies, mutants, ghouls, aliens or anything else; instead you'll find an end of the world scenario that's frighteningly grounded and, dare I say, plausible.
In the original film in the series, resources are scarce and getting scarcer. Simply put, as that happens human society is crumbling in on itself and people are losing it and getting violent. Systems that've been in place for decades are disassembling themselves as well, and government can't sustain what's been the norm for so long.
As I said, I don't think it's a possible Earth that's outside the realm of reality. Enter Max Rokatansky, a cop on a federal Australian police force that's not what it used to be and can barely handle the crooks that they're tasked with bringing to justice. His is a hard life, and it gets all that much harder when he goes up against Toecutter and his gang of nasty bikers called the Acolytes.
Gang violence is a big problem in this future era, and it's when Max goes head-to-head with this particular group that his life goes from tolerable to pretty freaking horrendous. I won't spoil any more of the story for you though, as it's a really well put together one and is well worth watching. I will warn though, that as with the most recent release in the series (Fury Road), you won't find a ton of exposition here. But director George Miller somehow makes that work, as wondering just what happened to this world works for the film's mystique.
It's also important to note, just in case Fury Road is your only encounter with this series, that the first Mad Max movie tales place before the complete fall of civilization. That's to say that some of the things in the film seem comparatively normal to what we saw in the most recent installment. Though different than what we have today, there's a police force, people living in towns, and even vegetation. It's not the wasteland… yet.
Mel Gibson does a great job here too in what's one of his very first roles ever, and his first big part in what would become a storied career. And it's really cool to note that the same actor who plays the villainous Toecutter also plays baddie Immortan Joe in Fury Road. No, they're not supposed to be the same character, it's just a cool little Easter Egg.
And speaking of extras, this disc isn't exactly exploding with them, but still has a few that make it worth a look, even if you already have the movie on home video. I'm not really a big fan of audio commentary tracks, but there is one here and it's actually pretty neat.
It's not director George Miller talking, but the group that Scream Factory (they produced the disc) put together is solid nonetheless and knows plenty about Max. Other than that, there's also a mini-documentary about the universe that was created with Mad Max. That one is particularly cool if you like to dig into the backstory of things, but I do wish it was longer.
Also, getting back to Mel for a second, there's a second doc that focuses on him and his career. I know it's 'cool' now to kind of goof on him, but he was great in Max and the movie launched him into a string of some of the biggest movies of the 80s/90s. He's also featured in an interview here which is really cool to see.
There are additional interviews as well, and some theatrical trailers too, but nothing Earth-shattering. It's a good selection of extras overall, but I would have liked to have seen more since this is billed as a 'collector's edition'.
As for the video, it's solid. I really can't complain all that much, and I'm not someone who gets caught up on the minutae of A/V all that much, but I should mention that there are times that it seems like the video presentation could have been a little better. There's nothing that ruins the movie or anything, but it seemed somewhat off at times.
Thankfully, the majority of the film is just fine though and the audio is good (with the original Aussie and the US tracks included), so if you're looking to add a copy of Mad Max to your collection for periodic viewing, you should have no trouble with this one.
Final Thoughts
Mad Max: Collector's Edition isn't quite the 'ultimate' edition of Mad Max that I was hoping it'd be. With the Collector's Edition label stuck behind the name on the box I just kind of figured that there'd be more to it.
Still though, it's got enough that fans might want to check out in the extras department, and the movie itself is still as good as ever. It's pretty easy to recommend this one- especially if you don't have a copy of the movie already.