Marvel has released a quartet of images (so far) of teases at who the 'Totally Awesome Hulk" might be, and they're all pretty interesting.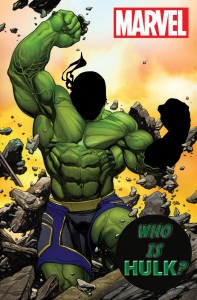 What happens to Bruce Banner in Secret Wars (or just after) is still something of a mystery, but we already know one thing- he's not the Hulk in the all-new, all-different Marvel Universe. But who is, is an equally big question mark.
To that end, Marvel has unleashed a series of images teasing at the character's identity, and each one is quite telling. All four are radically different, so I don't think we're dealing with some character that just has a lot of looks (though who knows), and that all resemble other Marvel characters.
Pretty clear are Loki and Thor, with The Maestro being a little harder to spot, and I think that last one might be Iron Fist. But are any of them who I think, or who they appear to be? Could there be more than one new Hulk? Maybe a group of them that fancies themselves as already established Marvel heroes? And why is that left hand blocked out in every shot?! What does he have the Infinity Gauntlet on or someth- …nah, couldn't be.
Or maybe it could. Find out the answers when Totally Awesome Hulk #1 hits the stands this Fall/Holiday. Or before. Maybe. We'll let you know.