In a world of hurt, Hellboy's trek through hell continues when he faces off against a spiritual illness that's killing him… again.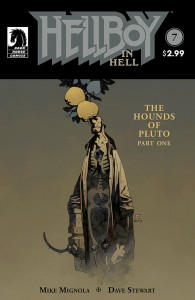 I have to admit, that even though I'm a huge fan of Mike Mignola's Hellboy, I haven't been reading Hellboy in Hell. I've read maybe one or two issues, but not the whole (up to now) six issue run. I really can't say why either as B.P.R.D., Abe Sapien, and the other related comics here and there are favorites of mine pretty much across the board. There was just something of a block for me as goes getting into Hellboy in Hell. Don't know why.
As I read issue #7 though, which hits retail this August, I'm reminded that I can be quite the idiot from time to time. And plainly, that's because this book is all kinds of awesome.
The setting is hell, and I don't mean that figuratively. Hellboy has fallen, battling a massive dragon that threatened the wipe London off the map as a part of the Hell on Earth arc that's still happening in B.P.R.D. But his death was never really explained all that well in those books. It was just hinted at here and there, and talked about from the perspective of people and creatures that may or may not have actually had first-hand knowledge.
Well, here we get a dose of exactly that, with some of what's really happening inn the world of men. Some. The backdrop just happens to be hell itself too, and what a wonderfully twisted and macabre version of hell it is.
Not the traditional fire and brimstone furnace that most imagine, or a blood and guts land of torture and depravity, this version of hell is unique. It's a world very much like the physical realm, and that includes some of the trappings like houses, courts, and doctors. And that brings us to the story arc that started off here- The Hounds of Pluto.
Found lying on the side of the road in a comatose state, Hellboy is taken in by a pair of doctors. Former doctors actually, since they're both dead, though that doesn't seem to matter much as there's still call for doctoring in a world where no one is actually alive. The ailments that these people suffer under are just a little more… metaphysical.
Infected with a parasite that's feeding on his very soul, Hellboy is well on his way to becoming a shade of his former self, a phantom of hell that's doomed to wander aimlessly. There's a way to stop this of course, and the good doctors lead him to someone who can help, though he'll need something from Hellboy in return before he will lend his aid.
The issue moves along at a lightning pace, zipping from locale to locale and telling a fantastically creepy tale, loaded with weird and unexplainable things while it does. It also sets the stage for the followup issue nicely, an issue that will be centered around an old Halloween decoration that author Mike Mignola fell in love with. Needles to say, it's a spooky little thing. Hellboy probably won't like it much either.
He's one of the most consistently good things about the entire Mignola-verse by the way. Well, not that any of it is bad really, but Hellboy is such a unique character and his generally annoyed attitude comes off as being twice as funny and engaging as it is usually in a world as bleak and devoid of life as hell. The writing is just so good here that it actually makes me miss Hellboy even more in the other series' that are inspired by him.
Mignola also takes the artist's seat here, and his style perfectly fits the Hellboy themes, which it should, since he created it. Everything is beautifully brought to life through Mignola's stark and stylized artwork, and the little details are so cool, like the buildings and landscapes of hell, as well as the awesome way the characters keep switching back and forth between a skeletal state and a human visage. So, so, cool.
Final Thoughts
If you haven't been reading Hellboy in Hell, start. It's awesome and not only expands the world of hell in the Mignola-verse, but returns Hellboy to active duty as a comic book hero (kind of).
The writing is amazing, the art is fantastic, and it's just a great book all around. I will say that it's a little bit 'down' overall however. It's a comic about hell (and not a cartoony hell) though, so what did you expect? Still, if you're more of a lighthearted reader who enjoys more superhero-y fare, then you might not dig what Mignola has done here with Hellboy in Hell's opening for The Hounds of Pluto.
All other readers though, should most definitely apply.