The Marvel Mutant line of comics is far from dead, and the next X-Men book is set to be Extraordinary.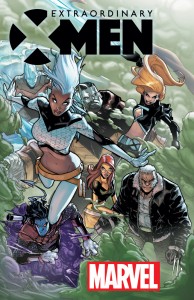 There's been a rumbling rumor for months (years maybe) that Marvel Comics is scaling back, canceling, or off-shooting their 'Mutant' line of comics based around the X-Men. The word of course, is that this is the case thanks to them not being a part of the Marvel Cinematic Universe.
Once again though, it looks like a rumor is all that talk amounts too, as the X-Men will indeed have a home in the 'all-new, all-different' Marvel U that's set to debut in the wake of Secret Wars. The new comic will be entitled Extraordinary X-Men and will feature a stellar creative squad of Jeff Lemire and Humberto Ramos.
"The chance to write the flagship X-Men book is a once in a lifetime opportunity," says Lemire in an upcoming interview with Marvel.com. "It's both exhilarating and somewhat intimidating. The X-Men have a staggering legacy and an extremely devoted fan base, so this is not an assignment I am taking lightly. I've poured everything I have into making this book something special. I don't want to write just another X-Men run. I want the work Humberto and I do to stand up with the truly great X-Men runs. "
Ramos has tons of fans from his run on Spider-Man, and Lemire is a fantastic writer, so I imagine this will be a book that X-fans won't want to miss out on. It's got a pretty nifty roster as well, with Storm leading the way once again, and Colossus, (Old Man) Logan (no word on how that happens), Nightcrawler, Magik, Iceman, and Jean Grey starring.
Now, you might be wondering where on Earth some of the most well-known X-Men are, since this comic is so far scheduled to be one of six X-books on the publishing slate for the Fall, and some of the biggest characters are nowhere to be found. Well, the answer to that question is both simple and mysterious… and it involves the Inhumans.
Seems that something's gone down between the two extra-human factions, something not so great. And since the new comic picks up, like the rest of the new books starting this Fall, 8 months after Secret Wars, we don't really know what that something is right away. Whatever it was though, it resulted in the disappearance of Scott Summers (Cyclops) and a bunch of other X-Men.
Pitting mutant against Inhuman could result in some pretty cool stories that, frankly, we've never seen before in Marvel lore. I mean, have they even met for more than an issue here or there? Seems crazy, since both groups have been around seemingly forever, but I don't think there's ever been a major storyline between the groups. Till now anyway.
This could be something special, especially for X-Men fans, since the team hasn't really led the way for Marvel as they have in the past, for some time. Pairing them up with the traditionally forgotten about but now emerging super-power in Marvel's Universe (Inhumans) could set them on the path towards greatness once again.
Get ready, the X-Men return to the Marvel U this Fall with Extraordinary X-Men #1.