The rebellion comes home with the first season of Star Wars Rebels.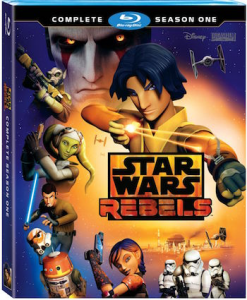 Off to a pretty good start already, the new Star Wars rebels cartoon show has made an impact with fans. Bringing back the old school flavor of the original trilogy of films, Rebels takes place between the two already existing sets of movies, and before the events of A New Hope.
The show stars all new characters (at least, in season 1 is does) including the young force-sensitive Ezra, pilot Hera, Jedi Padawan Kanan, Mandalorian commando Sabine, Zeb and that angry little droid- Chopper. That's not to say that they don't get a little assist from some familiar faces though, as Lando Calrissian, Ahsoka Tano, and Jedi Master Yoda all guest star. Oh, and then there's that season finale with a certain black-wearing former Jedi named Darth Vader. That's kind of interesting too.
With some big-time talent in the creative department (Dave Filoni from Star Wars: The Clone Wars, Simon Kinberg who had a hand in X-Men: Days of Future Past and Sherlock Holmes, and Carrie Beck) and featuring the voice talents of actors like Freddie Prinze Jr. as Kanan, Vanessa Marshall as Hera, and Jason Isaacs, the show is a pretty great trip through otherwise uncharted territory in the Star Wars universe.
If you have yet to catch up, then you'll want to pick up a copy of Star Wars Rebels: Complete Season One on Blu Ray or DVD when it hits retail on September 1st.
Here's what's on the disc:
Bonus Features:

Blu-ray:

Rebels Infiltrates Star Wars Celebration (Exclusive to Blu-ray)
Season One shorts: "The Machine in the Ghost," "Art Attack," "Entanglement," "Property of Ezra Bridger"
All DVD Bonus (see below)

DVD:

Rebels Recon: 14 behind-the-scenes featurettes
Star Wars Rebels – The Ultimate Guide
Star Wars Rebels Season 2 – A Look Ahead

Disc Specifications:

Release Date:              September 1, 2015

Format:                       Blu-ray (2-Disc) & DVD (3-Disc)

Rating:                         TV Y7 FV

Run Time:                   Approximately 330 minutes (not including bonus)

Closed Captioned:      Yes

Aspect Ratio:              1:78 (Widescreen)

Audio:                         5.1 Dolby Digital

Languages/ Subtitles:   English, French & Spanish