Take a trip into the game made up of possibilities, Reflections. Reflections releases as an Early Access game today on Steam and brings a whole world of possibility or, at least, that's what the developers are hoping for. Created by Broken Window Studios, Reflections aims to create a truly unique gaming experience built on your choices, which have meaningful impact of the story and your decisions impact your narrative.
The most unique feature, and how Broken Window Studios accomplishes Reflections' interesting gameplay, is the Storyteller engine. Built by the developers, the Storyteller Engine determines how your choices and actions affect the story and adapts the gameplay to those decisions.
Interactions with the environment, people, as well as passing the time all contribute to how the Storyteller Engine shapes your playthrough. The dynamic passage of time also affects your options. Opportunities and events can easily pass you by if you aren't careful about the time. An innovated take on complete freedom in gaming that is actually kind of close to freedom.
I had the wonderful opportunity to play this game before its release and, while it was still in a very early form, I was impressed with the game's design. The gray-scale world is beautifully stark. My first interaction with the environment lit the item in color. Nearly the entire world can be interacted with this way and it's encouraged. It's a delightful surprise when the room lights up and music plays when you've interacted with all the items in a room. Gameplay is as interesting as intended. At first I tried to do what I thought I was "supposed" to, but I quickly learned this game is all about the individual player. It may take players sometime to get use to the style, but the game's rare mechanics is worth testing. There is no sense of what to do. You're offered choices, but your never forced to act on any of them.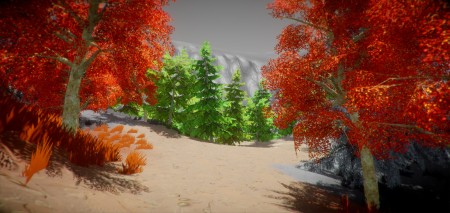 The time factor can also prevent you from those choices if you wait too long. Not to be cheesy, but the game reflects life. There are no right or wrong choices, just lots of options with different outcomes. I look forward to exploring the game more in Early Access.
As mentioned, Reflections releases on PC/Linux/Mac tomorrow as an Early Access game. Broken Window Studios deliberately decided to do Early Access due to the unique Storyteller Engine. On their Steam page, they state,
"The game takes an unusual approach to story, where the player can get a completely different plot and progression based on what they do in gameplay. We want those experiences to feel organic and match up with the player's personality as much as possible. Early Access gives us the ability to test our system "in the wild," to really see where its limits are."
They also want to gain as much user feedback to adapt the game as well and balance what users expect with a unique gaming experience. Right now, Broken Window Studios projects the Early Access to last 2 months at most, wanting to keep it as short as possible. The final story will add 3-4 new story lines as well as new character relationships and expanded ending. You can grab this game for a 33% discount while the Early Access last.
Final Thoughts
Reflections truly is a unique game that provides a new experience with every playthrough. If you enjoy story driven games with a lot of freedom, definitely check it out. Reflections rejects traditional game mechanics for story- and player-centric gameplay. Intriguing and charming, the game takes the player on their own personal adventure within the world. Reflections is certainly a game that operates outside the box, but in a great way.
If you are interested, I highly recommend visiting Broken Window Studios Website or Reflections Steam Page.