SteelSeries' excellent line of Siberia headsets is now available for the Xbox One and PS4.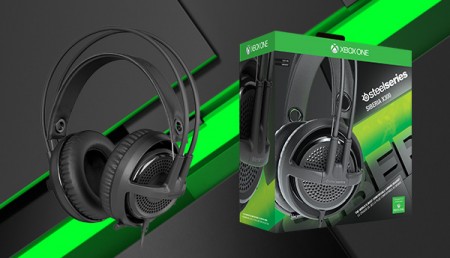 Available for both the Xbox One and the PS4, the Siberia line has finally made the jump to the current generation of home gaming consoles. And what a jump it is with a total of six new headsets seeing announcement. Designed with comfort in mind (which you'll need for those long gaming sessions), the new lineup was built with input from the eSports community of pro gamers and should cover all the bases nicely.
The Siberia X100, Siberia X300, and Siberia X800 are all Xbox One-dedicated 'sets and all of them include a controller adapter, so you neither need to wait for that new controller (with the jack built-in) nor plug the unit into the back of your console to enjoy personal sound. As for the PS4 editions, the Siberia P100, Siberia P300, and Siberia P800 are your go-to headsets there. All of the above will provide both audio and communication functions for online gaming, so they're pretty much all you need for either and both.
Here's what's on sale right now:
SteelSeries Siberia X800 ($329.99) and SteelSeries Siberia P800 ($299.99)

SteelSeries' Siberia X800 and P800 Wireless Universal Headsets deliver professional-quality audio with Dolby® 7.1 virtual surround sound and exceptional comfort for limitless hours of gameplay and audio entertainment. The headset wirelessly connects to your Xbox One or PS4 console and other devices, giving you immersive, low-latency, and lag-free, gaming audio. Ultra-soft memory foam earcups offer gamers amazing comfort, and rotate to lie comfortably around the neck during breaks from marathon gaming.

Adjust the volume, mix, EQ, and more with convenient controls directly on your headset. For chat capabilities on Xbox One, connect the headset via 3.5mm cable directly to the adapter and chat clearly with teammates and friends during gameplay. Unlike competitive headsets, there are no tiny blinking lights to try and decipher; instead the beautiful OLED transmitter displays profiles, audio sources, battery life, volume and more. The large display makes it easy to see and operate from the comfort of your couch.

While the competition waits for interference to be detected before changing channels, we avoid it completely. By continuously hopping between frequencies, the Siberia X800 and P800 bypass all possible interference giving you a perfect connection. Additional features include:

5-band EQ – equalizer settings to fine tune your audio
ChatMix – controls the audio level balance between the action in your game and the communication from your team.
LiveMix – automates the ChatMix feature and automatically turns up chat and turns down the game audio when voice communication is detected.

SteelSeries Siberia X300 ($129.99) and SteelSeries Siberia P300 ($99.99)

The SteelSeries Siberia X300 and P300 are the most comfortable console gaming headsets in the world, bar none. The Siberia headset is 70% preferred when tested against the top competitive headsets brands. The dominating results of the Siberia Challenge are due to the combination of the iconic Siberia suspension headband, offering enduring, lightweight comfort, and exceptional sound quality.

Its powerful, next-gen SteelSeries speaker drivers offers a rich soundscape with the support of Microsoft® 7.1 Virtual Surround Sound on Xbox One. The noise reducing memory foam ear cushions isolate the natural sounds and powerful bass while keeping out outside noise. A retractable, flexible crystal-clear microphone can be muted with the flip of a switch behind the earcup.

SteelSeries Siberia X100 ($69.99) and SteelSeries Siberia P100 ($49.99)

Previously a PC exclusive, the Siberia X100 and P100 bring a remarkable audio experience to console games. These affordable headsets allow gamers to experience how professional gaming headsets should feel and sound. The headsets give gamers breathable, soft-padded earcups on an over-ear design that rests easily on the head. The 3.5mm plug connects to the wireless controller and also works great on mobile devices and other platforms for a new level of audio fidelity no matter where you listen.
You can find all of these bad boys on Amazon right this very minute. No word on additional retail outlets, but we'll let you know, and you can follow the brand for more news and info via their Facebook page.