Abraham and Carl join the McFarlane The Walking Dead line as a Previews exclusive 2 pack.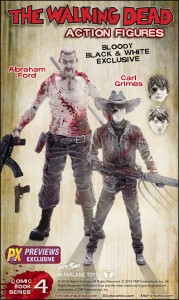 McFarlane has been making some of the coolest TWD collectibles ever with their twin lines of toys- one of the TV show and one featuring the designs from the Image comics. And now with this new 2 pack set, another pair of zombie-hunters joins the cast.
Abraham and Carl Grimes are featured in this pack, and both are styled after the comic book versions of the characters, cast in a cool black & white paint scheme (but with plenty of blood spatter). They'll also include a bevy of accessories. Walker killing weaponry and extra heads (to change up their looks) will be in the blister card, and both toys will be 100% exclusive to this set. As in, they'll never be sold anywhere else separately.
This will also be a one-run and done duo, as Previews won't be making a second pass at them. So if you want them, you better get yourself down to your local comics shop and pre-order them. The pack will be appearing in late July in stores, and will cost you $35.00USD.