How does having superhuman hearing in your games sound? How about having it wirelessly? Then you might be into what Turtle Beach has on tap.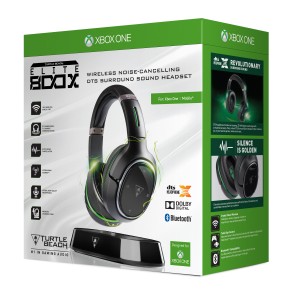 Their newest premium set of phones, the Turtle Beach Elite 800X is one formidable headset for the Xbox One. Not only does this baby deliver wireless game audio and chat, but it does so with a host of impressive features and some pretty neat freebies that you'll get just for buying one.
"Late last year we were first to market with a fully wireless headset solution for Xbox One with our Ear Force Stealth 500X headset, and we're thrilled to continue leading this category with the Turtle Beach Elite 800X," said Juergen Stark, CEO, Turtle Beach Corporation. "Today's video games, especially multiplayer titles, require players to have a great headset for the best audio experience. As stellar early consumer reviews demonstrate, our Elite 800X sounds amazing with its 50mm drivers, is extremely comfortable with leather-covered memory foam ear pads, and is packed with so much tech and high-end features that anybody looking for the best Xbox One headset need look no further."
Oh, I dig the leather-covered cups. I have a headset like that and love it. As far as what else the 800x' can do, well, chances are you're going to like what's on the list.
For starters, the headset promises "interference-free wireless" and 7.1 channel surround sound, noise-canceling, and all the usual goodies that you'd expect from a high-end headset. But then it goes a step further with something called 'superhuman' hearing. According to Turtle Beach, the 800x will let you hear enemies and such long before you can see them. It kind of sounds like it enhances the subtler sound effects found in games, and makes them easier for your human ears to pick up, which sounds pretty darn cool.
That's not the only cool feature on these though, as you can also expect cable-less charging, bluetooth support and more. Here's the full features list, including a list of free stuff that you get just for picking up a pair of 800x':
100% Fully Wireless -The Turtle Beach Elite 800X is completely wireless for game and chat audio, and uses intelligent channel-hopping for an interference-free wireless experience.
DTS Headphone:X 7.1 Surround Sound & Sound Presets – Experience DTS Headphone:X 7.1 Surround Sound with incredibly accurate, unmatched spatialization. Additionally, the Elite 800X offers custom DTS Surround Sound modes combined with Turtle Beach genre-specific presets to further immerse fans in their favorite games, movies and music.
Superhuman Hearing™ – From the faintest of enemy footsteps to weapon reloads off in the distance, Superhuman Hearing ensures gamers hear it all by amplifying soft sounds when switched on. This exclusive Turtle Beach audio processing gives players the competitive advantage of hearing enemies before they come into view.
Noise-Cancelling -Eliminate unwanted background distractions with active noise-cancellation when connected to the Xbox One game console and mobile/tablet devices.
Volume Control, Mic Monitoring & Dynamic Chat Boost™ – Gamers can set their preferred mix of game and chat audio levels right on the Elite 800X headset. Additionally, Mic Monitoring allows players to hear their own voice in the headset in order to avoid the need to shout, and the Elite 800X's Dynamic Chat Boost feature automatically adjusts chat volume during loud gameplay audio spikes to ensure players never miss a command.
High Quality Hidden Microphones – The Elite 800X features dual hidden, high-quality noise-cancelling microphones, with environmental presets to ensure players are always heard, regardless of their surroundings.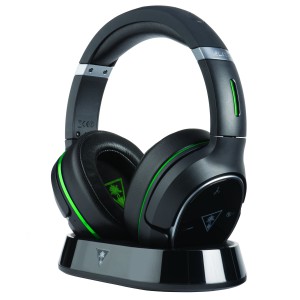 Magnetic Charging Stand & Rechargeable Battery – Whether gamers need a break from dominating other players in their favorite multiplayer game, or it's simply time to retire for the evening, just place the Elite 800X into its low profile, magnetic charging stand to store it and keep the headset powered-up without any cables. The Elite 800X features a built-in rechargeable battery that delivers up to 10 hours of functionality.
Bluetooth Wireless Versatility – Enjoy wireless Bluetooth connectivity with compatible mobile/tablet devices. And gamers never need miss a call or text again, as they can pair the Elite 800X to their mobile phone to listen to music, hear text notifications and take calls while playing.
Swappable Speaker Plates – Fans can customize their Elite 800X headset to their liking with easily swappable speaker plates that can be changed-out with new designs from www.turtlebeach.com/plates.
Easy Setup – The Turtle Beach Elite 800X setup is made easy through its magnetic charging stand, which doubles as the wireless transmitter to the headset. Simply connect the charging stand to the Xbox One game console using the provided USB and optical cables, and start playing.
Companion App – Gamers can download the Ear Force Audio Hub app to wirelessly change presets on the fly using their compatible PC, Mac and Android mobile/tablet device.
Elite Membership with Purchase – Gamers demand the ultimate in performance, and should get the ultimate in benefits. With the purchase the Turtle Beach Elite 800X headset, gamers also receive:

Turtle Beach Elite T-Shirt or Hooded Long-Sleeve T-Shirt
Two additional sets of speaker plates
Free Twitch Turbo trial membership
2-year extended warranty
Concierge product support service (for U.S. and Canada)
Early access to the latest Turtle Beach news and product info
Exclusive offers from the Turtle Beach online store and partners
The Turtle Beach 800x is available right now at retailers and will cost you $299.99 USD. Get the full skinny here.