If you like The Flash TV show, the chances are you're going to want this for your desktop.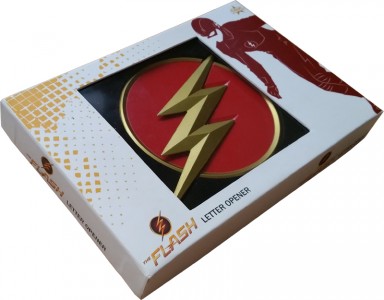 Icon Heroes has been making a habit of producing some very cool stuff as of late, and this new letter opener is certainly no exception. Crafted like the logo worn on Grant Gustin's Flash on the CW show, this is a little bit different than the iconic comic book version that you're no doubt a little more used to seeing.
More or less the same lightning bolt insignia, this TV version of the Flash symbol has a red background instead of the more traditional white. It's a cool look, and one that's exclusively the show's, so if you love the TV version of the character (us there anyone who doesn't?) then this is an item that you'll want to check out.
The bolt lifts right up from the circular backdrop for use in popping open those letters, and the whole thing measures 7″ in length. Honestly though, even if you're not going to actually use the thing, it would make a pretty darn cool accessory for your desktop. You can catch this one at the upcoming SDCC in July at booth #3345, which is where Icon Heroes will be stationed.