The big two's big crossover events are spinning up, with Convergence heading into the last few issues and Secret Wars starting to really get into it. That's not all this week though, as there's plenty of non-superhero stuff to be had.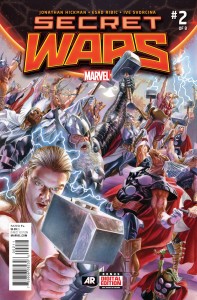 Let's start with the big ones though, because there are a ton of them. Convergence #6 (of 8) lands this week along with a plethora of crossover titles. The even on the whole hasn't been the greatest, but it's not all bad either, and I'm actually getting really attached to the Earth-2 heroes, who I didn't care a bit about prior to this series. Plus some of the alternate-dimensional characters are just plain fun to see again, with more than a few hailing from pre-Crisis and pre-Flashpoint universes.
While DC Comics' Convergence is winding down though, Marvel's so far excellent Secret Wars is just heating up. The second issue of the book lands this week, takes the focus and settles it squarely on Thor… s. Featured on the cover are a myriad of alternate Thors from across Marvel's version of the multiverse. It's a freaking cool cover too.
And while there are no 'real' crossovers as of yet for Secret Wars, there are plenty of related books with the Last Days titles. Those encompass several titles like All-New Captain America and Magneto, both worth a read if you're starving for Secret Wars action.
Past that, there's a bunch of great stuff unrelated to either of those mega-events like Valiant Comics' X-O Manowar and Imperium, Dark Horse's Harrow County and Abe Sapien, and more. Read on for my full picks, or click here to see the complete listing for the week right on Previews Magazine's page.
Marvel Comics
Secret Wars #2 – see above
Magneto #18 – Everything Magneto has ever fought for is about to come to an end. Will he revel in his accomplishments, or be tortured by them?
Captain America and the Mighty Avengers #8 – The Last Days for Cap and the Avengers have arrived, and the team will face them together.
Darth Vader #5 – Vader's inquest in to the secret affairs of the Emperor is beginning to draw attention.
Thor #8 – Finally, the new Thor faces down the Destroyer… and reveals her secret identity.
DC Comics
Convergence #6 – see above
Convergence: Shadow of the Bat #2 – Batman and Azreal face off against Wetworks in the pre-Zero Hour timeline.
Convergence: Green Lantern/Parallax #2 – Pre-Zero Hour Parallax is about to devastate the rival city of Electropolis. Standing in his way? Kyle Rayner.
Convergence: Suicide Squad #2 – Cyborg Superman and Bane join the Zero Hour Suicide Squad and go up against Kingdom Come Green Lantern and New OA. Yeah, maybe don't miss this one.
Mortal Kombat X #6 – The Shokan army is about to lay siege to Kotal Kahn's empire.
Dark Horse Comics
Harrow County #1 – A brand new horror series kicks off from Dark Horse, loaded up with witches, magic, and a very dark secret.
Abe Sapien #23 – Abe + Hellboy + Ogopogo = shenanigans.
IDW Publishing
G.I. Joe: Snake-Eyes – Agent of Cobra #5 (of 5) – The last issue of the series sees Snake having to make a fateful choice – Cobra, or G.I. Joe?
Miami Vice Remix #3 – It's Crockett and Tubbs and zombies, and a payment to be made- in blood.
Valiant Comics
Imperium #4 – Harada continues to assemble his team, and wage war for the 'greater good'.
X-O Manowar #36 – Is even the most powerful weapon in the universe enough to stop the Dead Hand? Aric might need a little help with this one…