Nintendo has announced that their upcoming multiplayer Wii U shooter Splatoon won't have voice chat as part of its online suite of options. And there's a very good reason for that.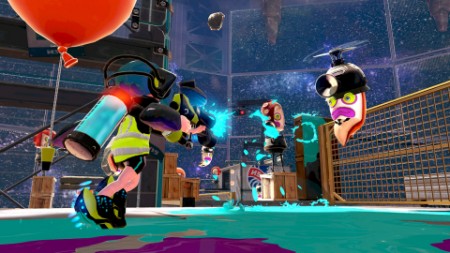 You could probably have figured out why one of the biggest and most anticipated games of 2015 for the Wii U won't have online voice chat, but we'll spell it out for you anyway- it's for younger audiences and Nintendo and Splatoon game director Yusuke Amano don't want adults and older kids spoiling the online fun with less than savory talk.
If you know Nintendo, then chances are you're not surprised in the least at this. The company pretty much always has an eye towards the younger set and, at the same time, seems to be generally not all that into online gaming. So the fact that they're releasing an online title without one of the main functions that online gamers look for (voice chat), isn't all that shocking.
It shouldn't make much of a difference to sales either. As website MCV points out, there's little chance of Call of Duty and Battlefield gamers suddenly defecting en masse over to a cute and cuddly title like Splatoon. Even less so now.
Splatoon slimes retailers this May.
Source: MCV