Plenty to like from Diamond Select Toys coming up in the next few months, and all of which has just been listed in Previews magazine.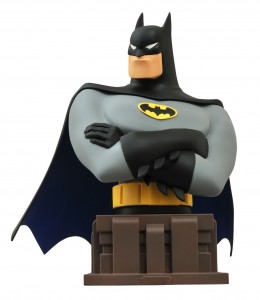 Ever the bible of the comic book and toy collecting fan, Previews always has the coolest stuff listed in its pages. The latest offering set from DST is proof of that, as there's something for pretty much every area of fandom. Some of the stuff was seen at Toy Fair, though I can't say I remember seeing those Nightmare Before Christmas mini-figure set, or that Hulk gelatin mold (that thing's too funny- think of the possibilities!).
Lots to like, so take a scroll down the page, make your picks for what you've gotta have, and then hit those links to log your pre-orders. Most of this stuff should be hitting fairly soon too, so if there's something you're really extra-into, you shouldn't have too long till you get in your hands.
Personal picks- the Hulk mold notwithstanding, I like the Batman and Predator bust/banks and that Ghostbusters pizza cutter. Come on, a Slimer pizza cutter? That's kind of a must have if you're a fan of one of the greatest movies of all time.
Batman Classic TV Series Premier Collection Batgirl Resin Statue –A Diamond Select Toys release! The Batgirl of your dreams is now the centerpiece of your statue collection! The first full-size statue in our Batman Classic TV Series line, the Premier Collection edition of Batgirl depicts actress Yvonne Craig as the unforgettable sidekick to Batman and Robin, the way she appeared in the third season of the classic TV show. Sculpted by the legendary Clayburn Moore in her distinctive purple-and-yellow crimefighting costume, this resin statue of TV's Barbara Gordon stands approximately 12 inches tall atop a Bat-logo base. Packaged in a full-color box with a certificate of authenticity. Limited to only 1,966 pieces! (Item # APR152297, SRP: $199.99) http://www.diamondselecttoys.com/batman-classic-tv-series-premier-collection-batgirl-resin-statue
Batman The Animated Series Batman Resin Bust –A Diamond Select Toys release! Evildoers beware – Batman is kicking off the next big bust line from Diamond Select! Based on the iconic and revolutionary Batman: The Animated Series, this line of 6-inch resin busts will depict Batman and his friends and foes just as you remember them from the cartoons! The Caped Crusader himself will be the first release in the series, with his arms crossed atop an art-deco base inspired by the show's distinctive style. Packaged in a full-color box with a certificate of authenticity. Limited to 3,000 pieces. Sculpted by Steve Varner Studios! (Item #APR152298, SRP: $59.99) http://www.diamondselecttoys.com/batman-the-animated-series-batman-resin-bust
Clerks Select 20th Anniversary Action Figures Series 2 Asst. –A Diamond Select Toys release! We assure you – this toy line is open! DST continues their line of action figures based on Kevin Smith's classic film Clerks with RST Video employee Randal Graves and subvocal spectator Silent Bob! Each 7-inch scale action figure is captured in the film's famous black-and-white palette, and includes film-accurate accessories, as well as a diorama base that can be used to re-create the exterior and interior of RST Video. Complete the shopping center diorama started by Dante and Jay! Sculpted by Patrick Piggott, and packaged in Select-style display packaging, with spine artwork. (Item #APR152301, SRP $149.94/case)
Randal B&W Figure (Item #APR152299, SRP: $24.99 http://www.diamondselecttoys.com/clerks-select-20th-anniversary-bw-randal-action-figure
Silent Bob B&W Figure (Item #APR152300, SRP: $24.99) http://www.diamondselecttoys.com/clerks-select-20th-anniversary-bw-silent-bob-action-figure
Femme Fatales Hack/Slash Cassie Hack PVC Statue –A Diamond Select Toys release! Supernatural slashers beware! If you're an undead monstrosity, or an seemingly unstoppable psychopath, you might just be Cassie Hack's next victim. The star of the hit Image comic series Hack/Slash, Cassie is the newest 9-inch PVC statue in the Femme Fatales statue line from Diamond Select. Walking along an axe head, Cassie holds her partner's mask in one hand, and a bat with nails in it in the other. Sculpted by Sam Greenwell, based on a design by creator Tim Seeley! Packaged in a full-color window box. (Item #APR152308, SRP: $45.00) http://www.diamondselecttoys.com/femme-fatales-hackslash-cassie-hack-pvc-statue
Ghostbusters Slimer Pizza Cutter –A Diamond Select Toys release! Pizza need cutting? Who you gonna call? How about the Ghostbusters' resident foodie, Slimer? As a focused, non-terminal repeating phantasm, Slimer tends to eat his food by the handful, with no cutting required, but the overall shape of this Class 5 full roaming vapor is perfect for housing a pizza wheel! A three-dimensional sculpt of Slimer stuffing his face with a whole pizza acts as the handle for a palm-sized blade, perfect for carving out a New York slice. Blade is easily removable for cleaning. Packaged in a full-color window box. (Item #APR152304, SRP: $14.99) http://www.diamondselecttoys.com/ghostbusters-slimer-pizza-cutter
Jay & Silent Bob Strike Back Bluntman and Chronic Tumbler Set –A Diamond Select Toys release! Another innovative product from the world of Kevin Smith! In the film "Jay and Silent Bob Strike Back," the release of "Bluntman and Chronic" on the big screen was an important pop-culture event, but did you know the Mooby's fast food chain released a pair of commemorative drinking glasses to mark the occasion? Well, they did, and now those glasses are available outside the View Askewniverse for the first time ever! Own a piece of film-within-a-film history as DST expands their Reelware line of meta movie merchandise! Packaged in a full-color window box.
Bluntman Glass (Item #APR152302, SRP: $9.99) http://www.diamondselecttoys.com/jay-silent-bob-strike-back-bluntman-tumbler
Chronic Glass (Item #APR152303, SRP: $9.99) http://www.diamondselecttoys.com/jay-silent-bob-strike-back-bluntman-tumbler
Marvel Hulk Plastic Gelatin Mold –A Diamond Select Toys release! There ain't no party like a Hulk party, because a Hulk party cannot be stopped! By anyone! Not even Thor! Make your next get-together unstoppable with this plastic gelatin mold in the shape of the gamma-irradiated Avenger's face. Measuring approximately 8 inches tall, this mold works with any color gelatin, not just red and green, and comes packaged in a full-color window box. (Item #APR152306, SRP: $14.99) http://www.diamondselecttoys.com/marvel-hulk-plastic-gelatin-mold
Marvel Minimates Ant-Man Movie Box Set –A Diamond Select Toys release! The smallest Marvel movie of all time is almost here! This four-pack of Minimates based on Marvel's Ant-Man movie includes four different 2-inch mini-figures – Scott Lang as Ant-Man, Hope Van Dyne, Hank Pym and Yellowjacket! Each Minimates mini-figure features 14 points of articulation, as well as interchangeable parts and accessories. Packaged in a full-color window box. (Item #APR152307, SRP: $19.99) http://www.diamondselecttoys.com/marvel-minimates-ant-man-movie-box-set
My Little Pony Rainbow Dash Vinyl Bank –A Diamond Select Toys release! Equestria's greatest flyer is now the greatest bank ever! This dynamic 7-inch sculpture of the speedy pegasus Rainbow Dash, as she appears in My Little Pony: Friendship is Magic, may look like a high-end statue, but it's actually a vinyl bank! With a coin slot in the back of her cloud, and an access door in the base, you can set her up on a high shelf, and watch your savings soar into the stratosphere! (Item #APR152305, SRP: $22.99) http://www.diamondselecttoys.com/my-little-pony-friendship-is-magic-rainbow-dash-vinyl-bank
Nightmare Before Christmas Jack Skellington 16″ Coffin Doll –A Diamond Select Toys release! Halloween is coming, and so is Jack Skellington! The star of Tim Burton's stop-motion masterpiece, The Nightmare Before Christmas, this 16-inch tall doll of Jack is a must for any home that embraces the spirit of Halloween. With a fully articulated body and a real cloth costume, this exacting re-creation of the classic Jack figure will rest comfortably in his coffin-shaped window box until the times comes for him to rise once again! Limited to 1994 pieces! (Item #APR152291, SRP: $49.99) http://www.diamondselecttoys.com/nightmare-before-christmas-jack-skellington-16-coffin-doll
Nightmare Before Christmas Select Action Figures Series 1 Asst. –A Diamond Select Toys release! Tim Burton's The Nightmare Before Christmas is finally getting the Select action figure treatment! The Select line is known for its detailed sculpts, larger scale and its diorama bases, and NBX promises to put all of those features to the test! Jack Skellington, Sally and Oogie Boogie will make up the first series of figures, each sculpted to a 7-inch scale with character-appropriate articulation. Jack Skellington will come with a cemetery environment, Sally with a Halloweentown environment and alternate kneeling legs, and Oogie will come with a stone floor base and a removable face! Each figure will come packaged in the Select-style display packaging, with spine artwork. Sculpted by Dave Cortes! (Item #APR152296, SRP: $149.94/case) http://www.diamondselecttoys.com/nightmare-before-christmas-select-action-figures-series-1-asst
Jack Skellington Figure (Item #APR152293, SRP: $24.99) http://www.diamondselecttoys.com/nightmare-before-christmas-select-jack-action-figure
Sally Figure (Item #APR152294, SRP: $24.99) http://www.diamondselecttoys.com/nightmare-before-christmas-select-sally-action-figure
Oogie Boogie Figure (Item #APR152295, SRP: $24.99) http://www.diamondselecttoys.com/nightmare-before-christmas-select-oogie-boogie-action-figure
Nightmare Before Christmas Minimates Foil Bag Asst. –A Diamond Select Toys release! Christmas is coming early this year! Each foil-bagged mini-figure in our display of Nightmare Before Christmas Minimates is like a little present to open, and there are eight different figures you can get! The first series includes Jack Skellington, Sally, Oogie Boogie, The Mayor, Dr. Finkelstein, and three exclusive figures – a Skeleton Reindeer, a glow-in-the-dark Jack, and a rare, one-per-case glow-in-the-dark Sally! With 18 packs to a display, there's a full set in every one! (Item #APR152292, SRP: $5.99/ea.) http://www.diamondselecttoys.com/nightmare-before-christmas-minimates-foil-bag-asst
Predator Unmasked Vinyl Bust Bank –A Diamond Select Toys release! DST goes deeper into the jungle with this vinyl bust bank of an unmasked Predator! With his mandibles out and his shoulder cannon at the ready, this hunter is protective of his prize, and his prize is your loose change! Insert coins through a slot in the back and remove them through an access door in the base. With a detailed, collectible-quality sculpt by Eli Livingston, you'll take one look at this bank and you'll say, "You are one ugly money-saver!" Packaged in a clear polybag. (Item #APR152309, SRP: $22.99) http://www.diamondselecttoys.com/predator-unmasked-vinyl-bust-bank