The latest in DST's line of Marvel heroes to get the Marvel Select figure treatment, the Marvel NOW! version of Hawkeye has hit MarvelShop.com.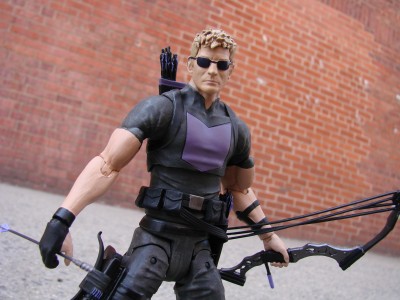 Packaged with his best buddy Lucky, Clint Barton returns to toy shelves, this time decked out in his Marvel NOW! outfit, which is pretty clearly the least superhero-y the character has ever looked. That's not to say that the figure isn't cool though, because it's actually pretty awesome.
Standing in at 7″ tall and with a fantastic 16 points of articulation, Hawkeye comes complete with swappable standard and bandaged heads, an extra hand, his crossbow pistol, and of course, his compound bow and arrows. If you're assembling a team of the most current Avengers, this Gentle Giant-sculpted archer is kind of a must-have.
You can nab him on MarvelShop.com right now, and at Disney Stores (and on DisneyStore.com) come April 6th.