The All-New Avengers and the Inhumans are joining Secret Wars #0 as Marvel Comics' Free Comic Book Day offerings for 2015.
Get a look into the Avengers of tomorrow with the All-New, All-Different Avengers! Eisner-award winning writer Mark Waid (Daredevil, S.H.I.E.L.D.) and All-New Young Guns artist Mahmud Asrar (All-New X-Men) take this new squad for their very first spin! NewcomersNova, Miles Morales, and Ms. Marvel join Captain America, Iron Man, Thor, and theVision for a team of Avengers unlike any you've ever seen before!

Then, blockbuster Death of Wolverine scribe Charles Soule joins artist Brandon Peterson (Age of Ultron) to lay new groundwork for the future of the Inhumans. As the Terrigen Mists continue to awaken new Inhumans across the globe – it's up to Medusa and her squad to protect them from a world that would use their new powers for evil. And why is Johnny Storm,the Human Torch now counted among their ranks?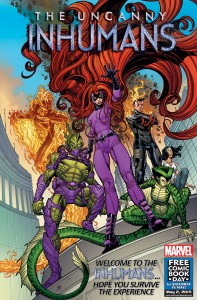 Lots of changes are in the works for the good old Marvel U in the wake of Secret Wars and the All-New Avengers and the Inhumans are very much a big part of those alterations. As you can see from these covers, these changes are somewhat mysterious as well, with the inclusion of what looks to be the classic Iron Man and Miles Morales on the Avengers, and Johnny Storm himself joining the Inhumans.
New stuff aside, both issues pictured here are fresh additions to Marvel Comics' Free Comic Book Day lineup. Secret Wars #0 was already announced, so that brings the list of comics to three, and all of them important to the next wave of Marvel's revamps.
FCBD is almost here too, and will hit on May the 2nd. Get to your local comics shop early and grab the free stuff!