Forging your way through Nordheim: City of the Damned on Steam's Early Access? Then you're going to want to update to Unity 5, and get some new maps and more via the Phase 4 download.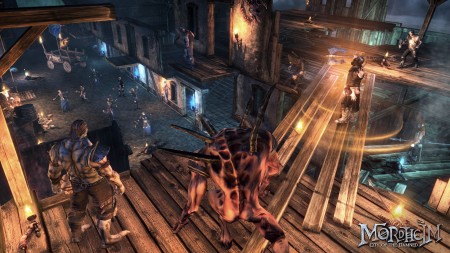 A turn-based strategy title set int eh Warhammer universe (from tabletop gaming company Games Workshop), Mordheim: City of the Damned was already looking pretty cool. The new update adds in a ton more content though, and gives the game a visual overhaul, so if you were on the fence about buying into the Early Access version, this may tilt you over the edge.
Included in the download is the bump from Unity 4 to 5, which provides a nice improvement to "lighting, shadows, and post-processing effects". Past that, there's also a trio of new skirmish maps available for play and two brand new locales with the Bridge and the Library opening up. Both of these should play differently than what you're currently used to since they have vertical elements that make them great for sniping and the all-important strategic art of the ambush.
Max-level Warbands are also added with this update and are now available for all races in the game. It kind of seems like this is just a foundation though, and that there's not too much of a difference to be felt with the warbands just yet. Developer Rogue Factor promises that won't last though as a future update will add in new leveling and gains that will take characters up a notch when they're fully powered.
No word on when that might be, but this update is live at present, and Mordheim: City of the Damned is available right now on Steam Early Access.