The best selling stuff for the month of February, 2015 was an interesting lot indeed. With Orphan Black #1 surprisingly taking the number one spot for comics and The Avengers villain Ultron nabbing the honors for toys.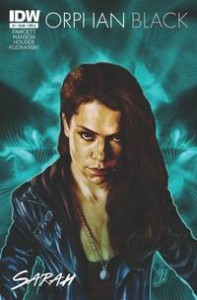 While the publisher with the biggest sales in the month was clearly Marvel with a dollar share of 38.44% (DC was second with 25.91% and everybody else was a ways back), it was Orphan Black's debut issue that took the very top honors. It almost seems like a misprint, since the comic is based on a somewhat niche show that airs on the BBC, but it most definitely is not.
Orphan Black #1 was written by series co-creator John Fawcett, and debuted in stores before the highly-antipated third season premier of the TV show of the same name. The show, just in case you're not familiar, is about a young woman and a group of her clones that she comes into contact with. With kind of an X-Files vibe and steeped in mystery, the show apparently translated well to the printed form.
Aside from Orphan Black, Marvel Comics had seven books in the top ten for the month, with Darth Vader #1 leading the way for the publisher at #2 overall. Scott Snyder and Greg Capullo's Batman #39 (a part of the hugely popular Endgame arc) was the top comic for DC, coming in at #5.
Outside of the monthlies, J. Michael Straczynski's Superman: Earth One vol.3 original graphic novel was the top seller for graphic novels, standalone of compilation. Image Comics actually dominated the charts here though, netting a stunning seven spots. As for regular old books, Sanctum Publishing's The Shadow Double Novel Volume 92 was the best of the month, while Dark Horse Comics' Hyrule Historia (about the world of The Legend of Zelda) still hung in there at #3 years after its initial release.
I mentioned Ultron above too, and with good reason as the DST toy release of their Marvel Select Ultron led the way for action figures and toys last month. That's not too surprising, since hype for the upcoming Avengers movie sequel (in which the 'bot is the main villain) is starting to crank up. Aside from Ultron, DC Collectibles placed four products in the ranking, and WizKids/NECA's DC HeroClix: Justice League: Trinity War Booster Brick took best honors for gaming products.
That's the best in short, but the full listing and rankings are posted below for your reading pleasure.
TOP COMIC BOOK PUBLISHERS
| | | |
| --- | --- | --- |
| | | |
| | | |
| | | |
| | | |
| | | |
| | | |
| | | |
| | | |
| EAGLEMOSS PUBLICATIONS LTD | | |
| | | |
| | | |
| | | |
| | | | | |
| --- | --- | --- | --- | --- |
| | | | | |
| | | | | |
| | | | | |
| | | | | |
| | | | | |
| | | | | |
| | | | | |
| | | | | |
| | | | | |
| | | | | |
| | | | | |
| | | | | |