The bizarro 80s-hued action sequel, Hotline Miami 2 is heading to the PlayStation family of consoles and the PC on March 10th. Click on through for some new screens and a tad more info.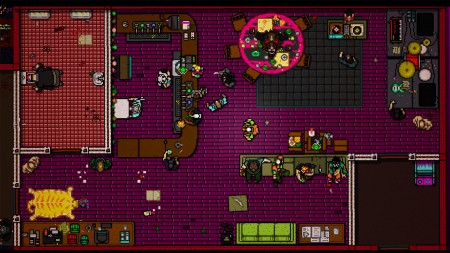 A quick trigger-finger and a strong stomach are once again in order as Hotline Miami 2 is finally heading home dot consoles and the PC. The game is set to be the conclusion to the story started in the original, which took the gaming world by storm with its heavy 1980s vibe, retro visuals, and brutal and bloody gameplay. The stories of several different factions 9established in the first title) will play out here, with each group having their own motivations and methods of tackling the 'unforeseen consequences' that arise throughout.
Let's be honest, if you enjoyed the original (and I think that was pretty much everyone old enough to play it), then you're going to want this one. Not only is it the actual 'ending' to the storyline, but it's also more Hotline Miami. It's a game that I don't think too many people have gotten tired of even now, largely thanks to its deceptively simple play style, and who wouldn't like a little more of that?
Hotline Miami 2 arrives on the PlayStation 4, PlayStation 3, PlayStation Vita, as well as the Windows PC, Mac, and Linux on March 10th. And if you pre-order the game now, you'll get 10% off the cover price on both Hotline Miami 2: Wrong Number and the Digital Special Edition, which includes the Remix EP, that features six select music tracks remixed by M|O|O|N, Scattle and Carpenter Brut.
Oh, and if you're a PayDay 2 fan, you're in for some pretty cool bonuses. As a free download, gamers who have a copy of PayDay 2 on the PC can grab a bunch of Hotline Miami 2 masks and a jacket to outfit their crook with in that game. More on that here, but it's a pretty sweet deal, especially since it's free. Hey, honor among thieves right? …and apparently contract killers.