Fox is dredging the depths of its back-catalog for some brand new TV.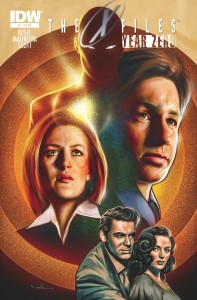 Although you could certainly make the statement that this news might mean that Fox might be a little slim on ideas for new series', I doubt anyone would be too sad to see more of Chris Carter's X-Files hit the tube. The series, which ran for almost ten years, is a genre classic and had too many all-time great episodes to count, not to mention the first movie which was pretty awesome too.
And if the network has its way, there may be plenty more where that came from. According to several outlets online, Fox is looking to revive the series, along with 24 and Prison Break, in the near future. Whereas the latter two properties are still somewhat nebulous in the reality of their returns though, Fox is very much currently in negotiations to bring back both Mulder and Scully along with the show.
Yep, that's right, not only is the network looking to bring the X-Files universe back to TV, but they're looking to bring back the talent that made it one of the best sci-fi shows in years too. I have a hard time believing that creator Carter wouldn't be into a revival, especially since he's gone on record as saying that he's got more story to tell involving the characters. It was also recently commented by Scully herself, actress Gillian Anderson, that she'd love to get back behind the badge once again, so you could probably count her in as well. That'd leave the only holdout at actor David Duchovny, the series other lead- Fox Mulder.
Duchovny isn't currently involved in any ongoing series' though, so there may be a good chance there to wrap him up as well. Cross your fingers and stay tuned true-believers, we'll have plenty more on this as it develops.
Source: SuperHeroHype
*Image from the IDW X-Files comic book series, which is awesome and you should totally check it out if you love all things X.