The Amazo Virus wreaks havoc in Justice League #38, resulting in a super-powered Batman, and Spider-Verse rolls on in Marvel's Spidey titles.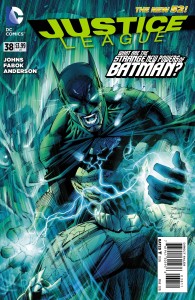 Batman has always been a character without 'powers'. Sure he's got strengths that almost all other people lack, including an impressive array of gadgetry, mastery of multiple forms of martial art, and insane deductive reasoning, but he doesn't have abilities that preclude him from being called 'human' really. Well, till now anyway.
Thanks to the Amazo Virus in the pages of Justice League, the Dark Knight now has a set of super-abilities to call his own. Just what they are is still under wraps, but this is a can't miss issue for bat-fans anyway and a potentially important plot-point for the League in general. Don't miss it.
Also hitting this week are a bunch more Spider-Verse crossover issues from Marvel. The long-reaching crossover continues in the pages of Amazing Spider-Man #13, Scarlet Spiders #3, Spider-Verse Team-Up #3, and Spider-Woman #3. Needless to say if you've been following all along, these are issues that you probably don't want to skip since we're getting down to the nitty-gritty now.
IDW also has a few number ones to watch for this week. Both Snake-Eyes: Agent of Cobra and Millennium #1's arrive on the racks and are ca't miss books if you're a fan of either property. Snake-Eyes casts the longtime G.I. Joe as a Cobra Agent after a mysterious absence has him turn up on the villainous side, while Millennium brings back Frank Black and the shadowy Millennium Group in a crossover mini-series that teams him with Agent Mulder from the X-Files.
Those are the reads I'm looking forward to most in my pull box this week, but if you'd like to see the rest of what I'll be picking up, scroll on down to the bullets below. And if you'd like to see the full list of what's on the way, hit this link and head on over to Previews complete list page for the week.
Marvel Comics
Amazing Spider-Man #13, Scarlet Spiders #3, Spider-Verse Team-Up #3, Spider Woman #3 – see above
Magneto #14 – Mags takes on S.H.I.E.L.D. on Genosha. 'Nuff said.
Moon Knight #11 – Moon Knight gets arrested. Hilarity ensues. Or beatings. Or both.
Fantastic Four #642 – The ride to the end of the line for Marvel's First Family continues.
DC Comics
Justice League #38 – see above
Green Lantern: New Guardians #38 – The Life Equation is killing Kyle and this is a turning point issue for the future of the character.
Dark Horse Comics
B.P.R.D.: Hell on Earth #127 – Agent Howard's past life as a prehistoric warlord gives the team some ideas on beating the latest horror they face.
IDW Publishing
Snake-Eyes: Agent of Cobra #1 – see above
Star Trek/Planet of the Apes #2 – The Enterprise crew runs into Taylor, Charlton Heston's character, as the Klingons continue their alliance with the Apes.
Millennium #1 – see above
Valiant Comics
Ivar, Timewalker #1 – The third Anni-Padda brother impacts the Valiant U in this new series.
The Valiant #2 – Valiant's newest event book continues with more action and more heroes getting involved.