Fitting for a game that takes place in the 80s, Devolver Digital and Dennaton games' Hotline Miami 2: Wrong Number is set to have a rad Collector's Edition that does with a three-disc set of records.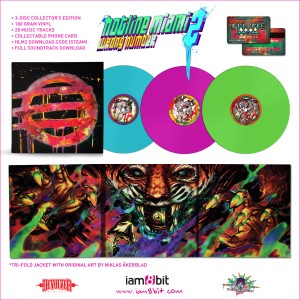 Neglect that hastily bought record player no more, now you'll actually have something to play on it. Hotline Miami 2's Collector's Edition, which will be available for order exclusively through I am 8bit's website, will include 28 songs from the upcoming game, spread out across three records. The jacket for the discs will be of the tri-folding variety and will sport cover art by the same man who's doing the honors for the game itself, Niklas Akerblad.
On top of that of course, you'll get a copy of the game, which will be delivered via digital download. In a neat little twist, the download code is set to be printed on a collectable hone card that'll be packed in with the records. Oh, and if you're thinking, 'I love vinyl, but I want the tunes on my PC too' , then you're in luck because you're getting a download code for the complete soundtrack in the box too.
If you're looking forward to a return to the twisted world of Hotline Miami, then deals don't get too much better than this one. You can preorder yours here.