The Cimmerian and the She Devil are at each other's throats and on the trail of serious trouble in their new mini from Dark Horse Comics.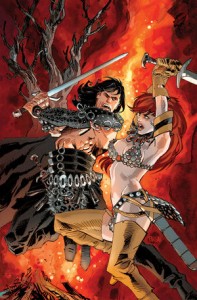 Dark Horse is seriously pumping out some of the best Conan stories in a long time right now and it certainly seems like Conan/Red Sonja, which pairs the two pre-historic barbarians, should be right there with them. Not only does the pair not exactly get along, but they've also got a sorcerer-priest to hunt down in the new mini-series. And as usual, this priest isn't an ounce of 'good', he's out to plunge the Hyborian world into a new dark age (wait, it wasn't in a dark age?!).
Telling the tale will be writers Jim Zub and fan favorite Gail Simone, so if you needed some evidence that this was going to be one to watch for, well, there it is. And with Dan Panosian and beautifully dark and  angry art style providing the pencils, this one's pretty del assured to be interesting to more than just die-hard fans of the heroic leads.

Not that there's any shortage of those mind you. And Dark Horse has been doing a spectacular job of keeping them happy and in bloody adventures through the pre-historic barbarian realm thought up a long, long time ago by author Robert E. Howard. Conan has had a bunch of different (though, not all that different) incarnations over the years too, and Dark Horse promises that this new mini-series will span the ages, with looks at both the man himself and Red Sonja in multiple eras. Should be pretty darn fun.
Click the thumb to the left for a full preview of the new book, and then get down to your local comics shop and make sure you add this one to your pull list, as Conan/Red Sonja #1 arrives on the racks on January 14th, 2015.