Batman '66 and some more Marvel Zombies Minimates headline his week's offerings.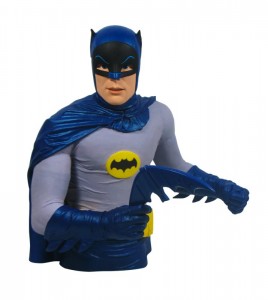 Despite it being crunch time and only a week out from Christmas Day, DST has a fresh new round of awesome stuff in stores this week. First and foremost is more Batman '66 merch in the form of the Batman himself and Robin, as portrayed by Adam West and Burt Ward in the classic TV show. Now, these ate technically banks, but as anyone who buys DST's banks regularly can tell you, they'll double as busts pretty wearily and should look pretty spiffy on a comic library shelf, or right on your desktop.
Next up we've got another set of Marvel Zombies Minimates. This new four-pack features undead versions of Dr Doom, Kingpin, Sabertooth (I still can't figure out how he could be a zombie), and Morbius- who I guess is now a non-living vampire. Man, Marvel Zombies makes no sense.
Finally, there's a bottle opener made in the image of the classic robot Robbie from Lost in Space. And that's something that might come in handy right about now as the Holidays are most definitely upon us… Have a look below at what's in stores right now and then get out and grab some of the goods for yourself.
Batman Classic TV Series Batman Vinyl Bank – A Diamond Select Toys release! This is one bank the Joker won't dare to rob! Standing 8 inches tall, this vinyl bank depicts Batman as he appeared in the Batman Classic TV Series. With a coin slot on the back and an access door on the bottom, this bust bank of Batman also features collector-quality sculpting and paint applications, and is the perfect addition to any Batman collection. Packaged in a clear polybag. Designed by Barry Bradfield, and sculpted by Jean St. Jean! (Item #JUN142088, SRP: $22.99)
Batman Classic TV Series Robin Vinyl Bust Bank – A Diamond Select Toys Release! They say a good sidekick is worth his weight in gold, but is he worth his weight in pennies? This 8-inch bust of Robin as he appeared in the Batman Classic TV Series is actually a vinyl bank, with detailed sculpting and paint to make it resemble a high-end collectible. With a coin slot on the back and an access door in the base, you'll be saying "Holy savings, Batman!" Packaged in a clear polybag. Designed by Barry Bradfield, and sculpted by Jean St. Jean! (Item #JUL142040, SRP: $22.99)
Lost in Space Robot B9 Metal Bottle Opener – A Diamond Select Toys Release! The Class M-3 Model B9 General Utility Non-Theorizing Environmental Control Robot is the most important piece of equipment on the Jupiter 2 mission. In addition to running air and soil tests on the planets they visit, it also opens all of their bottles! This 4-inch sculpted metal opener has magnets on the back, so it will stay on your refrigerator or lunar module until you're in danger of getting thirsty! Comes packaged in a full-color slipcase. (Item #JUL142035, SRP: $18.00)
Marvel Minimates Zombie Villains Series 2 Box Set – A Diamond Select Toys release! The Villain Zombies are back, to take another bite out of the Marvel Minimates line! This time, Zombie Dr Doom, Zombie Morbius, Zombie Kingpin and Zombie Sabretooth make up the box set, which should have your Marvel heroes quaking in their boots. Each Minimate stands 2 inches tall and features interchangeable parts and accessories.  (Item #JUN142082, SRP: $19.99)