Toys R Us will be on the receiving end of a bunch of new Minimates thanks to the poll that fans voted on this past Sumer.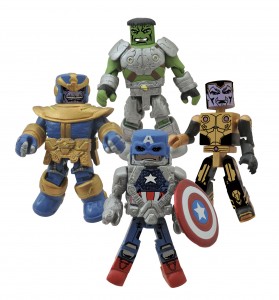 If you voted in the poll a few months back, then you already know that DST wanted fan input on six Minimates figures to see what kind of release they'd get. With the votes all tallied and everything planned out, the toy-maker is ready to reveal what's on the way. Four of the figures will be packaged together in a set based on the Infinity series, while the other two will be worked into a new series of two-packs, all of which will be hitting Toys R Us stores.
Hitting TRU's this month (just in tie for Christmas), the Infinity box set will star Space Suit Captain America, Armored Hulk, Thane and Thanos, all of which are modeled after their appearances in the 2013 mini-series. As for those two-packs, they;ll also be hitting TRU stores before the end of the year. Mark 38 Iron Man will be paired with Ronan the Accuser, but it doesn't stop there as DST will be filling out a full wave of releases with Anti-Sinister Six Spider-Man packed with Mysterio, Payback Wolverine and a classic Sentinel, and Quicksilver in a two-pack with Age of Ultron's newest Avenger- The Vision.
All in all a pretty great set that's filled with new looks at older characters and a few who've never seen plastic before in the Minimate style. Keep a look out for them at your local Toys R Us, and get in a pre-order for the box set if you really want to make sure you get one.