Some of the coolest art books in the biz are made by publisher Udon, and all of them are on sale right now.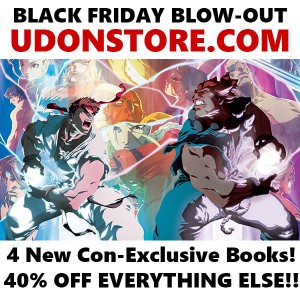 If you've ever bought a Udon-made tome of art for one of Capcom's properties, then you already know how great they are. If not, well, they rank as some of the most eye-popping collections of artwork, as it pertains to games, on the market.
Udon isn't all Capcom either, that's just what they're best known for, and there are a ton of books on sale today that cover stuff like World of Warcraft, Darksiders, and even Brutal Legend. Everything is 40% off right now too, and in some cases that adds up to an amazing level of savings. Take the Street Fighter Ultimate Box Set for example; you get two massive books in the set, both of which are limited to 500 pieces each, for $100 USD off the asking price. Tough to beat a deal like that for an Udon book.
Get in on the sale by clicking here, but put on some hustle, as things are selling out pretty quick. The deals will last till tomorrow only.