You're going to want to get in on these if you're into some of the biggest books (digital or otherwise) of today.
Batman, Detective Comics, X-Men, Avengers, Guardians of the Galaxy, X-O Manowar, Red Sonja and tons more are on deep discount on the digital comic book storefront. Available now through the weekend, comiXology has much more in store this monster shopping weekend too, with sales coming that will be good today only, and more on the way for Cyber Monday, which is this coming… Monday.
More on that later though as the company promises an update is on the way as to what to expect for Monday, for now though there's more than enough to make any comic fan happy. And if you haven't been the best at keeping up with some of the best stuff out there (like Snyder and Capullo's current run on Batman) then this is the sale for you. Have a look and get to buying, as these deals are gone like a pumpkin pie at Thanksgiving come Tuesday.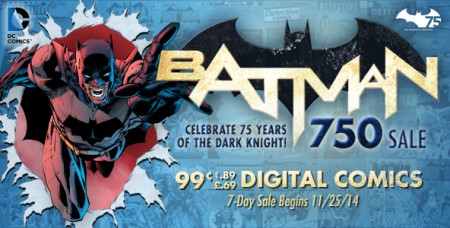 11/25 – 12/1 – DC's Batman Black Friday/Cyber Monday Sale:
All the following issues are marked down to $0.99 each.

All-Star Batman and Robin #1-10
Batman (1940-2011) #0-25, 159, 251, 291-294, 323-324
Batman (1940-2011) #404-413, 416, 426-429, 436-439
Batman (1940-2011) #462-465, 475-480, 489-713
Batman (1940-2011) Annual #25-26
Batman (2011- ) #0-20
Batman: Black & White #1-4
Batman: Cacophony #1-3
Batman: Dark Victory #0-13
Gotham By Gaslight
Batman: Legends of the Dark Knight #0-34, 65-68
Batman: Legends of the Dark Knight #116-126, 192-196
Batman: No Man's Land #0-1
Batman: Shadow of the Bat #16-35, 48-49, 53-54, 73-94
The Dark Knight Returns #1-4
Batman: Long Halloween #0-12
Batman/Superman/Wonder Woman: Trinity #1-3
Detective Comics (1937-2011) #0, 475-476, 569-570
Detective Comics (1937-2011) #27, 28/29, 30/31, 32/33
Detective Comics (1937-2011) #575-578, 618-621, 642
Detective Comics (1937-2011) #659-666, 676-720 (721)
Detective Comics (1937-2011) #722-881
Detective Comics (2011- ) #0-23
Superman/Batman #1-26
Legends of the Dark Knight Chapters 1-21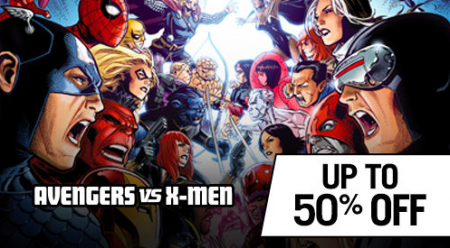 11/26 – 12/1 – Marvel Black Friday Collections Sale:
All the following collections are marked down to the discounted price shown.

Captain Marvel Vol. 1: In Pursuit Of Flight – 3.99
Avengers vs X-Men: The Collected Edition – 19.99
Civil War: Road To Civil War – 3.99
Doctor Strange: The Oath – 3.99
Dr. Strange Season One – 3.99
Daredevil By Bendis And Maleev Ultimate Collection Vol. 1 – 9.99
Inhumans By Paul Jenkins & Jae Lee – 9.99
Ant-Man Season One – 3.99-Man Season One – 3.99
11/24 – 12/1 – Guardians of the Galaxy by Bendis Sale!:
All the following single issues are marked down to $0.99

Guardians of the Galaxy (2013) #0.1, 1-13
All-New X-Men (2012) #22.NOW-24
11/28 – 12/1 – Image Black Friday/Cyber Monday Sale:
All the following collections are marked down to the discounted price shown.

Alex+Ada Vol. 1 – $4.99
Black Science Vol. 1 – $4.99
COWL Vol. 1 – $4.99
Deadly Class Vol. 1 – $4.99
East of West Vol. 1 – $4.99
East of West Vol. 2 – $4.99
Lazarus Vol. 1 – $4.99
Lazarus Vol. 2 – $5.99
The Manhattan Projects: Deluxe Edition Vol. 1 – $12.99
The Manhattan Projects Vol. 1 – $3.99
The Manhattan Projects Vol. 2 – $5.99
The Manhattan Projects Vol. 3 – $5.99
The Manhattan Projects Vol. – $6.99
Nailbiter – $4.99
Pretty Deadly – $4.99
Rat Queens Vol. 1 – $4.99
Saga Vol. 1 – $4.99
Saga Vol. 2 – $6.99
Saga Vol. 3 – $6.99
Sex Criminals Vol. 1 – $4.99
Sheltered Vol. 1 – $4.99
Sheltered Vol. 2 – $4.99
Southern Bastards – $4.99
The Fuse – $4.99
Umbral Vol. 1 – $4.99
Zero Vol. 1 – $4.99
Zero Vol. 2 – $4.99

All the following single issues are marked down to $0.99 each unless other wise noted

Alex+Ada #1 – FREE
Alex+Ada #2-8
Black Science #1-9
COWL #1-5
Deadly Class #1-7
East of West  #1-15
Lazarus #1-11
The Manhattan Projects #1-23
Nailbiter #1-6
Pretty Deadly #1-5
Rat Queens #1-8
Saga #1-23
Sex Criminals #1-7
Sheltered #1-11
Shutter #1-6
Southern Bastards #1-4
The Fuse #1-6
The Wicked +The Divine #1-4
Umbral #1-9
Zero #1-10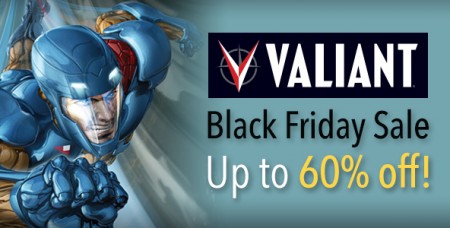 11/28 – 12/1 – Valiant Black Friday/Cyber Monday Sale:
All the following bundles are marked down to the discounted price shown

Archer & Armstrong Bundle (issues 0-17) – $17.99
Bloodshot Bundle (0-17) – $17.99
Eternal Warrior Bundle (#1-8) – $7.99
Harbinger Bundle (Harbinger #0-14; Harbinger Wars #1-4) – $18.99
Harbinger Wars Bundle (Harbinger Wars #1-4; Harbinger #0, #11-14; Bloodshot #10-13) – $12.99
Quantum and Woody Bundle (#1-12) – $11.99
Shadowman Bundle (Shadowman #0-16; Shadowman End Times #1-3) – $19.99
UNITY Bundle (Unity #1-7; X-O Manowar #5, X-O Manowar #19-22) – $11.99
X-O Manowar Bundle (X-O Manowar #1-18) – $17.99
Valiant Team Ups Bundle (Harbinger #6-10, Archer & Armstrong #5-9, Unity #1-4, Bloodshot #14-17, X-O Manowar #5-8) – $21.99
Ninjak (Unity #1-7, X-O Manowar #5-8) – $10.99
Valiant Origins Bundle (Archer & Armstrong #0, Archer #0, Bloodshot #0, H.A.R.D Corps #0, Harbinger #0, Bleeding Monk #0, Goat #0, Shadowman #0) – $7.99
Valiant: The First Arcs – Part 1 Bundle (X-O Manowar #1-4, Harbinger #1-5, Blood #1-4, Shadow #1-4, Archer & Armstrong #1-4) – $20.99
Valiant: The First Arcs – Part 2 Bundle (Quantum & Woody #1-4, Eternal Warrior #1-4, Bloodshot #14 -17, Unity #1-4, Harbinger Wars #1-4) – $20.99

All the following bundles are marked down to the discounted price shown

Archer & Armstrong Vol. 1: The Michelangelo Cod – $3.99
Archer & Armstrong Vol. 2: Wrath Of The Eternal Warrior – $4.99
Archer & Armstrong Vol. 3: Far Faraway – $4.99
Archer & Armstrong Vol. 4: Sect Civil War – $4.99
Bloodshot Vol. 1: Setting the World on Fire – $3.99
Bloodshot Vol. 2: The Rise and the Fall – $4.99
Bloodshot Vol. 3: Harbinger Wars – $4.99
Bloodshot Vol. 4: H.A.R.D. Corps – $4.99
Eternal Warrior Vol. 1: Sword Of The Wild – $3.99
Eternal Warrior Vol. 2: Eternal Emporer – $4.99
Harbinger Vol. 1: Omega Rising – $3.99
Harbinger Vol. 2: Renegades – $4.99
Harbinger Vol. 3: Harbinger Wars – $4.99
Harbinger Vol. 4: Perfect Day – $4.99
Harbinger Wars – $4.99
Quantum and Woody Vol. 1: The World's Worst Superhero Team – $3.99
Quantum and Woody Vol. 2: In Security – $4.99
Quantum and Woody Vol. 3: Crooked Pasts, Present Tense – $4.99
Shadowman Vol. 1: Birth Rites – $3.99
Shadowman Vol. 2: Darque Reckoning – $4.99
Shadowman Vol. 3: Deadside Blues – $4.99
Shadowman Vol. 4: Fear Blood The Shadows – $4.99
Shadowman: End Times – $4.99
Unity Vol. 1: To Kill A King – $3.99
Unity Vol 2: Trapped by Webnet – $4.99
X-O Manowar Vol. 1: By the Sword – $3.99
X-O Manowar Vol. 2: Enter: Ninjak – $4.99
X-O Manowar Vol. 3: Planet Death – $4.99
X-O Manowar Vol. 4: Homecoming – $4.99
X-O Manowar Vol. 5: At War With Unity – $4.99
11/28 – Dynamite's Red Sonja Black Friday Sale:
All the following collections are marked down to the discounted price shown

Red Sonja Vol. 1 – $4.99
Legends of Red Sonja – $4.99

All the following single issues are marked down to $0.99 each unless other wise noted

Red Sonja #0
Red Sonja #1-12
Legends of Red Sonja #1-5
Red Sonja Unchained #1-4
Red Sonja: The Black Tower #1-2
Red Sonja and Cub
Red Sonja: Berserker
Red Sonja: Sanctuary