Once again, Call of Duty reigns supreme.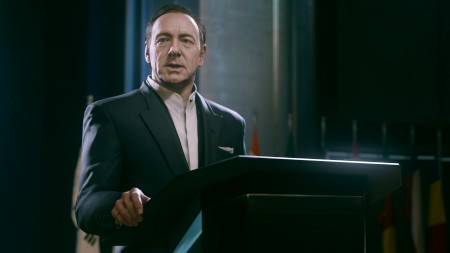 Activision has released a pretty impressive figure concerning the Call of Duty series on the whole, while painting a very rosy picture of Advanced Warfare in particular. Although they didn't name the money made or copies moved out the door on Call of Duty: Advanced Warfare, they did point out that the series in its entirety has, to they point, sold in the neighborhood of 10 billion dollars worth of games.
"Since Activision created the Call of Duty franchise in 2003, franchise revenues have exceeded $10 billion in sales worldwide, far exceeding box office receipts for such household movie franchises as Hunger Games, Transformers, Iron Man and Avengers, combined," said Bobby Kotick, CEO of Activision Blizzard. "Advanced Warfare is the biggest entertainment launch of 2014 in terms of revenue, surpassing all movie, music and book launches this year."
As for Advanced Warfare in specific, Activision had little to say outside of the fact that the game has hosted 370 million online matches in just it's first week of release and saw gamers leveling up in multiplayer some 200 million times in that span. Those are telling numbers in a way since they definitely denote a game that's sold bucket loads. They're not as deep as some might like, or as direct, though. Sales are what most look to to see just how something is being received and those are a set of numbers that Activision is still hanging onto right now.
"We poured our hearts into making Call of Duty: Advanced Warfare an epic ride, and we are pleased with the performance," said Eric Hirshberg, CEO, Activision Publishing, Inc. "Sales and engagement are up through the first week compared to last year. Season Pass sales are up, as well. The game has been very positively reviewed and the response from fans has been tremendous. We believe Advanced Warfare will be the most successful game of the year and we thank our fans for making it the biggest entertainment launch of the year."
If you'd like to check out our review of the blockbuster title, click here, Callof Duty: Advanced Warfare is in stores now for the Xbox One, PS4, Xbox 360, ,PS3, and PC.