So how does one make an already good fighting game even better? Persona 4: Ultimax, that's how.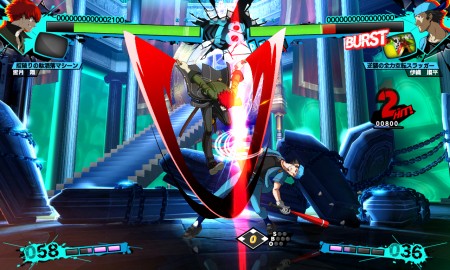 Persona 4 Arena: Ultimax is the conclusion to 2012's Persona 4: Arena which was already considered a good fighting game by the majority of the people who played it. P4U takes all of those good things and makes them even better by updating and improving on them. From characters which we already love to the music that made the games epic and the game engine that spawned classic fighters such as BlazBlue, Persona 4 Arena: Ultimax is every bit as glorious as its prequel (and its peers) in the fighting game genre.
The graphics look beautiful and everything seems to work fine as even in the game's most intense moments, the game works smoothly while ensuring that no quality is lost and that's one of the most important factors in playing a fighting game. The moves all look flashy and new but what makes it work is that developer Arc System Works takes everything that we loved in the battles from the Persona RPG series, and they reimagined the moves and skills and basically just put them all in a fighting game. From Kanji's masterful use of the steel chair to Chie's Galactic Punt to Mitsuru's 'execution', everything is masterfully done and everything is what I imagined it to be if put in a fighting game.
P4AU's updated character design for each Persona character were also well done, from the shading to the various retouches here and there. Everyone looks beautiful and flashy, though not as much in the case of Mitsuru and Akihiko. You know what I'm talking about. Speaking of character designs, I have to say I was really impressed with how they designed Minazuki Sho. He looks like a Persona protagonist, but acts like he's one of Adachi's brothers-in-arms (though Adachi begs to disagree) and all of this is executed without even having him talk. That's how he appeared to me the first time I saw him from a Japanese teaser trailer for P4AU and that's how I saw him after playing Persona 4 Arena: Ultimax.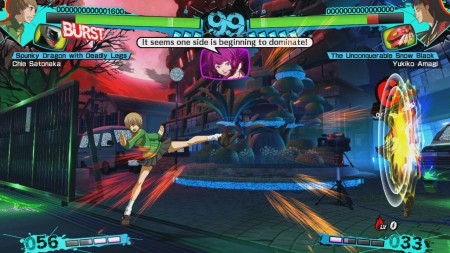 The music! What I can say about the music is that whatever music was in Persona 4: Arena, P4U doubles up on that and even adds in a few remixes here and there! The music that was already great in Persona 3 and Persona 4, plus a retouch here and there? God, the tunes here are honey to the ears of any Persona fan, and the way they used the music in story mode is masterful as well. Let me give you an example: Best Friends, which was sung by P3's Yumi Kawamura and was Persona 4: Arena's theme song, is played during an exposition of what happened during the events of the P1 Grand Prix. As a fan of details, this really got me.
It's impactful and effective and got me thinking of the good times I had while playing Persona 4: Arena.  I love the additional music and the simple notion of adding something as iconic as "Mass Destruction" to the mix really made my day as a Persona fan. While we're on the subject, "Break out of…" by Persona 4's Shihoko Hirata and Persona 3 and Persona 4 Arena's Lotus Juice is the theme song for Persona 4 Arena: Ultimax and is definitely one of the greatest game theme songs that I have ever heard. Granted that I am a Persona fan, but it combines the soft but powerful vocals of Shohoko Hirata and the Hip Hop and Rap appeal that Lotus Juice was known for in Persona 3. The music is definitely one of the highest points of the game and is sure to give anyone, Persona fan or not, a good time. It's probably a given due to the collaboration of Yumi Kawamura, Shihoko Hirata, Lotus Juice and the master himself, Shoji Meguro.
The gameplay is essentially an improved version of what was seen in Persona 4: Arena, but that doesn't mean that there aren't any changes. Things that have been changed include balancing, mechanics and new auto/dial combos for each character, as well as a more comprehensive Persona Card management system for each character (which basically takes into account how much each character needs his or her own Persona). For example, Margaret, who is a Persona-centric character, has a staggering 9 Persona cards at her disposal and Akihiko who mainly relies on his physical prowess has only 2. These are all subtle yet effective changes and made Persona 4 Arena: Ultimax the game that it is today.
I especially liked how Arc System Works balanced each character. Akihiko had limited moves to choose from in Persona 4: Arena, but this is addressed in Ultimax- and they basically made Akihiko Sanada the ultimate brawler. As someone who enjoys watching people get beaten up ala Tekken, but with a little BlazBlue twist, the changes made me happy. Also worth noting is how each character has a certain mechanic to them; Junpei has a fighting style centered on his skills as a baseball player and for every successful move he does, he 'moves a base' in his exclusive baseball-ish meter which basically gives him more moves and stronger hits. I've never been a fan of Amada Ken either, but this game changed my mind. Making up for his youth (at least according to him) allows him to team up with Koro-chan which basically makes the Koro-Ken team a two-man fighting machine with Koromaru taking care of the Persona-centric attacks while Amada Ken keeps you at bay with his Long Spear.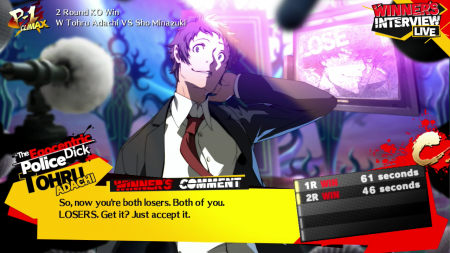 The characters who fought in the P1 Grand Prix return for Ultimax too, but joining them this time around are their Shadows, Takeba Yukari, Iori Junpei, Amada Ken and Koromaru from Persona 3, and Tohru Adachi, Marie and Margaret from Persona 4. It is worth noting that Adachi, Marie and Margaret are all DLC characters with Adachi and Marie released as free DLCs during the launch week of Persona: Ultimax. The Shadows fight like their respective 'Originals' did in Persona 4: Arena and they are more offense oriented in that they build SP faster and the SP they accumulated carries over to the next round.
There isn't much development in terms of improving the characters (this happens in the respective games), but what we do get are basically updates on what and how everyone is doing after Persona 3 and Persona 4, which is good, at least for someone like me who got invested in the characters while playing the games. A new character is introduced also and he goes by the name Sho Minazuki. He claims to be the perpetrator behind the events of the P1 Grand Prix and we are only given a glimpse of who he is during the game. Maybe that will be changed in a future Persona game, but only time (and Atlus) can tell.
Story-wise, Persona 4 Arena: Ultimax is the conclusion to the story arc introduced in Persona: Arena. As such, knowledge of the game's current happenings depend upon whether or not the player has played Persona: Arena, but as a Persona fan I am content with how the story was presented. Ultimax improved upon the previous game's story mode by presenting a linear flow-chart of each character's experiences in the story mode of Persona: Ultimax. There are 3 point of views to play the game on: Episode Persona 4, Episode Persona 3 and Episode Adachi, and only in playing all of them can one unlock the true ending. All in all, I like how the story played out, though I do have a lingering feeling that this isn't over at all and I am looking forward to the next things to come.
The game has a ton of added features too, such as the Golden Arena mode where players can level up the characters in Persona 4: Ultimax in a survival mode fashion. Characters can develop skills like a Persona as you use them in battle and eventually reach the end of the Golden Arena where you face off against She who rules over Power. That can't be anything but bad, right? Also returning, but improved upon, in the game are the network battles where players can fight against others gamers online- competitively or casually. Also added is a lobby feature where players can assume a Persona-character avatar and interact or fight with other players hanging out.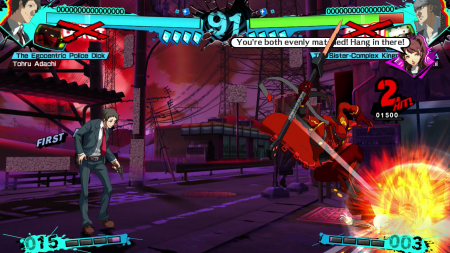 Ultimax has a ton of DLCs and most of them come from Persona 4: Arena. Do note that with the exception of Marie, Adachi and Margeret, most of the DLCs are unlockable in-game and have no actual bearing in terms of story or gameplay, so getting them is entirely up to you. And if you purchased DLCs for Persona 4: Arena then you're in luck, all of them are compatible with Ultimax.
Final Thoughts
Persona 4 Arena: Ultimax is the ultimate fighting game sequel to Persona 4: Arena and serves as the conclusion to the P1 Grand Prix storyline. The characters are great, the story is well presented and the music is godly. I highly recommend this game to people who enjoyed Persona 3 and 4, and even for those who aren't but might want to try out a different kind of fighting game that still stays true to the genre's roots.