Classic PC game fans rejoice, the Lucasarts catalog is available on GOG.com.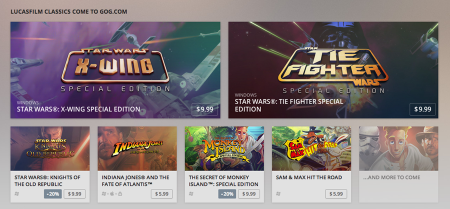 "We are very excited to be able to bring these classic interactive titles to our platform; it has been a long-time dream of ours," said Guillaume Rambourg, Managing Director at GOG.com. "Luckily, Disney Interactive is always looking for new ways to give players access to content, so this was a natural collaboration. To those gamers playing these titles for the first time…May the Force Be With You!"
internet gaming retailer GOG.com has been doing some big things in the last year or so, and stocks some of the best games of all time for the PC already. But it's just gotten all that much better thanks to a deal between them and Disney to bring the Lucasarts games to the service. Of course, this deal isn't limited to just Lucasarts games, but those are the ones that will probably make the most impact with fans and get those digital cash registers a-ringing.
In all, six of the best games in the company's history are available right now on GOG.com, with more to come. Here's the current slate:
Star Wars: X-Wing Special Edition
Star Wars: TIE Fighter Special Edition
Sam & Max Hit the Road
The Secret of Monkey Island: Special Edition
Indiana Jones and the Fate of Atlantis (one of my favorite games of all time)
Star Wars: Knights of the Old Republic
Three of those games are hitting the net for the first time anywhere too, with X-Wing, TIE Fighter, and Sam & Max begin available on GOG.com exclusively. You can expect to see 20 Lucasarts games in total come to the storefront, with another 14 on the way sometime soon. As for right now though, this should be more than enough to keep your nostalgia-loving, game-playing self busy.