Ready to go back to the 1990s?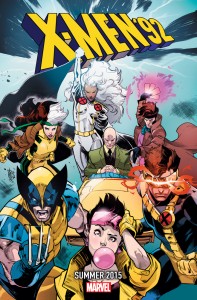 Without anything to go along with it, Marvel Comics today has teased a return to the X-Men of the '90s era with the single promo image you see to the right. In specific, the X-Men of the Fox animated series of the same name look like they're on the way back to fans, but in comic book form. Sure there are a few faces that are missing from that pic (where are Beast, Colossus, and Jean Grey?), but this is pure Jim Lee-era X-goodness and brings back some terrific memories.
It's particularly good to see, because for a long time the publisher had acted like their '90s list of cartoons was something of a non-event. For the most part though, the shows were a hit and were fairly well-written and acted, with solid adventures that fit these most iconic versions of the characters in question into a more stripped down version of the Marvel Universe. Sure they were released on DVD (well, all of them except for Spider-Man), but when do you ever hear Marvel talking about their animated shows of years past the way that DC Comics does about theirs? And although I'd agree that the current run of programming that Marvel/Disney has airing on TV is fun for what it is, it's not nearly as mature or well-put together as this classic stuff from the '90s.
This announcement (hopefully) changes all that though, as it appears that Marvel is planning a comic that extends the cartoon series' storyline, which never really had an appropriate ending. If that's the case, I'm officially excited as these were some of my favorite toons of all time and the show was absolutely one of the main reasons that the X-Men were near or at the very top of my favorites chart when it came to comic book heroes in that decade.
Cross your fingers '90s X-Men fans, X-Men '92 #1 is on the way for 2015.