Horror/comedy doesn't get much better than director Sam Raimi's capper to the Evil Dead 'trilogy'.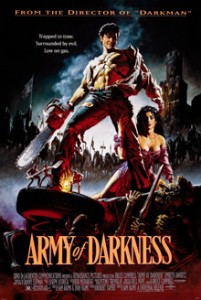 Now that I'm thinking about it, I'm not sure if you could call Army of Darkness a horror movie. Sure there are monsters and terrible situations, as well as some (well, a few) pretty gruesome monuments, but a horror movie? I just don't know. And basically, that's because there's just as many laughs as screams in Army of Darkness, director Sam Raimi's third and final 'Evil Dead' film..
Bruce Campbell once again takes up the chainsaw and shotgun of Ash, the dimwitted and constantly aggravated hero of the Evil Dead 'trilogy', in AoD. Again though, can you really call this a trilogy? For starters, Evil Dead 2 is basically a funnier remake of Evil Dead, which was a straight up horror flick. So technically there are only two movies in the series; that being Evil Dead 2 and this fine film here, Army of Darkness (seems like we could use another). And oh what a film it is.
AoD opens up right after the ending of Evil Dead 2. Series hero Ash Williams has been transported to medieval England thanks to a vortex that sucked up both him and his car, sending them as far away from the creepy old cabin that served as ED2's backdrop as possible… and it apparently sent him through time too. And Space too I guess, since the cabin was in the US. Anyway… Ash is a slave, held captive by some knights who are at war with a rival faction.
In the midst of this war, an evil rises up to infect the land and the people in it, a very familiar evil from Ash's point of view. Hideous monsters stalk the countryside and magic of the most foul variety runs rampant. Ash being Ash, doesn't really care about any of this stuff though, he's really just looking to get home and back to his job at S-Mart. Along the way though, he'll craft a robot hand for himself, save a damsel in distress, outdo anything the A-Team has ever put together as he turns his car into a hard-driving deathmobile, and generally punch evil flat in the nose.
Campbell is at his absolute best in AoD, and by that I mean that he's a smarmy, in your face ball of anger- just teetering on the brink of insanity. If you're a fan of his, then you know that's a very good thing indeed. Out of all his roles (and he's played a ton in the sci-fi/horror/fantasy realms) this one is the most memorable for me, far and away. The sheer number of fantastic quips and one-liners alone are pure gold and worth the price of admission. He's not an island here though and the supporting cast is all pretty great as well. Marcus Gilbert, Embeth Davidtz, and (the always great) Ian Abercrombie as the wise man are likewise terrific here.
The script, which was written by the brotherly duo of Sam and Ivan Raimi, runs the funny-gamut and stretches from smart to straight out slapstick. Very nearly all of it is gold too with, as I said before, some of the funniest and most memorable lines from any movie, anywhere. Heck, gamers will even recognize a bunch of them from the famous FPS Duke Nukem 3D, which borrowed from the film's hero liberally for a decent chunk of the Duke's personality.
As much as I like almost everything about the movie, one knock I'll give it is that, if you're looking for knockout special effects you won't really find them here. For starters, Army of Darkness was released in 1992, so the sfx aren't exactly up to the CGI standards of today. And past that, this wasn't the most robust of budgeted pictures to begin with. Army of Darkness had a modest $12 million behind it according to the film's wiki page and it does show at times. That's not really to say that the effects are all that bad, but they're not among the best in the genre and some portions have aged better than others.
Actually though, I like what Raimi and crew did with the overall look of the film. The castle where most of it takes place is run down and shoddy, convincingly so, and it actually does look like there's some very hard times happening in not-so jolly old England. The monsters are mostly good looking as well, with the skeleton and zombie army of Deadites being particularly cool to see, even the ones that don't looks so great, and especially when they're on the wrong end of Ash's death car.
Final Thoughts
Quite honestly, this is one of my favorite movies of all time.
There's a near perfect melding of horror and comedy here. It does tilt slightly to the comedic side of things over the horrific (the opposite of what Evil Dead 2 did), but it certainly isn't an unwelcome choice as the team behind the movie, and Campbell himself, really made some cinematic gold with this one. If you're looking for a spooky film to watch on Halloween night (but maybe one that won't necessarily keep you up through that night), then this one fits the bill.
Hurry up and get Ash back into action guys, it's been way too long since he's graced a screen- big or small.