Technically the second package of DLC for Alien: Isolation (the first being the classic movie pack), Corporate Lockdown is an all-new look at the events on Sevastopol Station.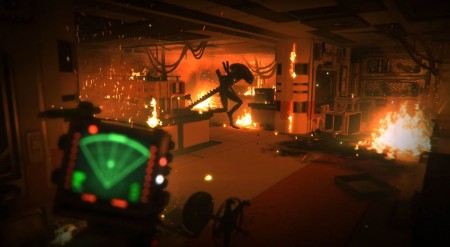 We just reviewed Alien: Isolation to some acclaim, and if that's what you think of Creative Assembly and Sega's new take on the classic sci-fi/horror franchise too, then you've got another reason to head back to Sevastopol Station. The Corporate Lockdown pack adds in a new player character, new objectives, and a while new play mode to the game in a mission that allows you to play as a member of the Weyland-Yutani corporation.
In 'Corporate Lockdown', Seegson Executive Ransome has learnt that he has been abandoned by his paymasters. Knowing that the Torrens is on the way, he decides to make his escape and hitch a ride on board, taking decoded Nostromo data with him. However, while escaping he wants to tie up a few loose ends… Across three new challenge maps, 'Severance', 'Scorched Earth' and 'Loose Ends', players are challenged to compete against others through Alien: Isolation's online leaderboards, to escape the station in the fastest possible time or attain the top score through numerous side quests and hidden bonus objectives. New to 'Corporate Lockdown' is the addition of Gauntlet Mode where players are challenged to top the Gauntlet Mode leaderboards by completing all three challenge maps back-to-back without dying.
This is the first of the downloadable packs, of which there'll be another four for the game. Trauma, Safe Haven, Lost Contact and The Trigger will all follow suit as well and include a new character to play as with all the other trappings that Corporate Lockdown offers. Each pack will cost you $7.99 USD and will become available on all the platforms you can find the base game on.
As for Corporate Lockdown, you can expect the terror of Alien: Isolation to kick up yet again on October 28th.