More of Geralt's adventures are on the way for comic book fans with The Witcher: Fox Children.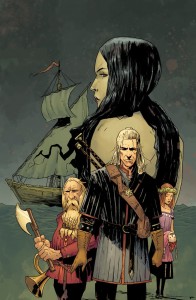 If you saw our review of The Witcher: House of Glass from earlier today, then you know how crazy we were about Dark Horse Comics' first foray into the dark fantasy world of Geralt of Rivia. Simply put, the series was excellently crafted in just about every way and worth a look whether you are or aren't a fan of the games and/or books. We liked it so much, that we were calling for more as soon as would be humanly possible- which turns out to be this coming April actually.
The Witcher: Fox Children is on the way from House of Glass author Paul Tobin (who you might also know from the excellent horror series Colder) and artist Joe Querio. The books sets Geralt out on the high seas for some adventuring on a ship of "fools, renegades, and criminals, where some passengers are more dangerous than others, but one is hiding a hideous secret". And if that's not enough to get you excited for this one, then you haven't ready House of Glass yet- seriously, go read it.
Also on the way in March of 2015 will be The World of the Witcher art book, and if you know anything about the way Dark Horse treats art books, then you know this ones pretty much going to be a must buy as well. No firm date yet on it though, but you can expect The Witcher: Fox Children #1 will be on the racks on April 15th, 2015.