Valiant Comics newest promotion, set for debut in 2015, is set to bring 6 new titles into the publisher's stable.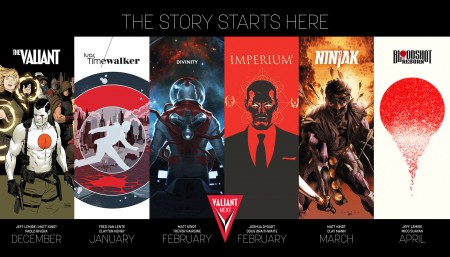 Some of Valiant Comics' most loved books are wrapping up (or have already wrapped), but fans shouldn't fear because there's a lineup of comics on the way starting this December that should dil in that void nicely. Some starring some characters that you definitely already know.
"We've spent two years building an award-winning publishing line, pouring our hearts into re-imagining X-O MANOWAR, HARBINGER and the rest of the Valiant Universe for the modern day. Now it's time to take it to the next level," said Valiant CEO and Chief Creative Officer Dinesh Shamdasani. "VALIANT NEXT taps into the same creative energy that made Valiant one of the most legendary comic book companies of all time. When I was a kid, one of the best things about Valiant was picking up an issue with a brand new character, like X-O MANOWAR or NINJAK. I'm excited that we're doing that again now with series like DIVINITY and IMPERIUM. And that's only a fraction of what we have coming next."

"Jeff Lemire, Matt Kindt and Paolo Rivera are delivering an absolute monster of a book with THE VALIANT and it's the perfect title to lead off VALIANT NEXT," said Valiant Editor-In-Chief Warren Simons. "This is our most ambitious initiative yet, and everyone's bringing their A-game. The creative team of ARCHER & ARMSTRONG reuniting to launch IVAR, TIMEWALKER. Clay Mann on NINJAK – his first ongoing series at Valiant. Mico Suayan tearing it up with Jeff Lemire on BLOODSHOT REBORN. Joshua Dysart and Doug Braithwaite together for the first time for the devastating events of IMPERIUM. Not to mention the introduction of an all-new, all-powerful force in DIVINITY from the minds of Matt Kindt and Trevor Hairsine. It's a kick-ass time to be a Valiant fan."
Good to see Bloodshot won't be left on the bench at all, and Ninjak has been begging for a solo book since his debut in X-O Manowar and then huge part in the team book Unity. As for the rest, I'm not really familiar with the names, but Ivar comes from the Archer & Armstrong team, Divinity is  from Matt Kindt, and Imperium continues the Harbinger story, so it certainly sounds like there's a lot to like there.
Valiant also kind of has a way with these things and has established a kick butt line already, so I'm up for at least checking out what they've got ready for 2015. Valiant Next kicks off with The Valiant this coming December.