Icon Heroes awesome new Snake Mountain replica (from the old He-Man cartoon series) and Star Trek bookends are now shipping and ready to slide onto your shelf of awesomeness.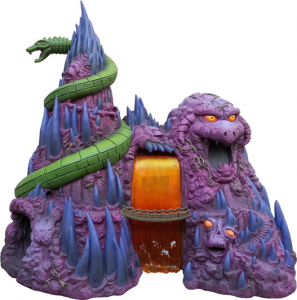 We profiled these bad boys a few times earlier this year, but there's no harm in taking another peek since both of these are available right now.
As a big Masters of the Universe fan myself, there's little that I find cooler than stuff like the company's new Snake Mountain. A fully realized and detailed to the hilt replica, IH's Snake Mountain is every bit the lair of Skeletor and his evil warriors as the one that you remember from the classic cartoon series. The piece combines elements of the comics, Filmation cartoons, and even the old toy from the original toy line from Mattel to create on Snake Mountain to rule them all.
Snake Mountain. Evil Stronghold of Skeletor. When King Hssss and his cold blooded army invaded Eternia, they sought to booster their forces by freeing the mighty Preternian serpent deity Serpos from his underground prison. Together, the Snake Army and Serpos conquered much of Preternia, devastating the lands and enslaving all who got in their way. Eventually, the combined powers of the Elders were used against Serpos, tapping into the magic of the Star Seed to turn the great three headed serpent God into stone. Serpos' remains eventually became known as "Snake Mountain" and would be used as a base of operations for many mages and warlocks throughout the centuries including Skeletor and his evil warriors who used Snake Mountain as a fortress to attack Randor and his Master of the Universe during the time of He-Man.

Designed by Nate Baertsch and the Four Horsemen, this statue draws from many different past references of Snake Mountain. From the Filmation series comes the "Blood Falls", while the vintage toy playset influenced the acid lake, several monster heads throughout, the prisoner's ledge, the bridge, the computer station, and the gate atop the taller mountain.

This massive Snake Mountain statue measures approximately 18″ W x 16″ H x 13″ D and weighs approximately 16 pounds!
And if MOTU isn't your thing (which, if true, I think you're out of your mind), there's also this amazing looking Star Trek bookend set. Good for storing just about anything that you'd want to display out and about on your bookshelf, this bookend set is perfectly modeled after the original Star Trek series' logo.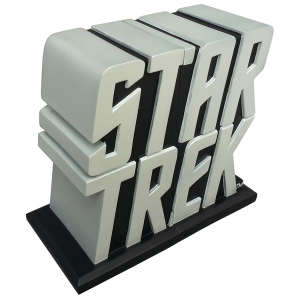 Secure your favorite books or DVDs on your journey into space: the final frontier with these stylish Star Trek Logo Bookends by Icon Heroes.  Together the two ends measure approximately 6.5" H x 7.25" W x 4" D and weigh approximately 6 pounds.  Made of sturdy poly stone, each piece is meticulously hand painted.  Easily recognizable, these Logo Bookends are sure to be a great addition to any Star Trek collection.
Both of these can be ordered up now via Icon Heroes' website, where you'll find links to the various places you can place your order.