Not to be missed by RPG fans, Realms: The Roleplaying Game Art of Tony DiTerlizzi is inbound for 2015 from Dark Horse and Kitchen Sink.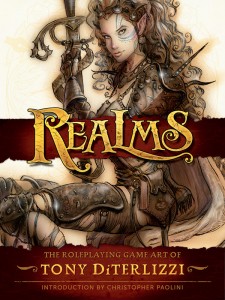 Best known as a fantasy artist, Tony DiTerlizzi has actually written and illustrated books like the WondLa trilogy, Ted, Jimmy Zangwow's Out-of-this-World Moon Pie Adventure, The Spider and the Fly, and Spiderwick, which was adapted into a feature film in 2008. Even though he's worked on plenty of stuff outside the genre though, DiTerlizzi is best known for creating art based on some of the most popular role-playing game universes of all time like Advanced Dungeons and Dragons and Magic: The Gathering.
"There is no question that the work I did in gaming early in my career shaped me as an author and illustrator for children," says DiTerlizzi.  "In RPGs, I was not just tasked with illustrating a character, but also the artifacts they use, the armor they wear, the places they inhabit and the monsters they vanquish. It was my introduction to worldbuilding and an experience I will forever cherish."

"Dark Horse has been fortunate enough to work with some of history's greatest artists" said Dark Horse president Mike Richardson. "I am excited to add Tony DiTerlizzi's name to a list that includes the likes of Mike Mignola, Frank Miller, and Geof Darrow."

"Tony was one of the most respected and well-known names in gaming when he made a risky decision to make the leap and pursue his lifelong dream of illustrating books for younger readers," says Kitchen Sink Books co-founder and REALMS editor/designer John Lind.  "His unique artistic style and success in that genre is a tribute to his roots in gaming. For fans of his work, REALMS is a dream project and one that we've spoken about assembling for years. We're thrilled to finally make this book become a reality—we hope fans will feel the same!"
And that's the centerpiece of the newest art book to be produced by Dark Horse Comics, in conjunction with Kitchen Sink Press. Realms: The Roleplaying Game Art of Tony DiTerlizzi will be loaded up with "illustrations reproduced from the original art, unpublished sketches, and photographs from DiTerlizzi's archives". In addition, you'll also find all new work created by the artist just for this book.
Along with all the great art, there'll be some reading to do here too with Christopher Paolini providing the forward and luminaries like Guillermo del Toro, Brom, Jane Yolen, Holly Black, Zeb Cook, Jeff Easley, and Donato Giancola all contributing something to the volume. If you're a fantasy fan (or just a fan of DiTerlizzi's) this is one not to be missed.
Look for Realms: The Roleplaying Game Art of Tony DiTerlizzi to hit shelves on June 3rd, 2015.